Festival season is upon us, and it's time to take our makeup game to a whole new level!
Whether you're a makeup enthusiast or a novice, the world of festival makeup offers a captivating opportunity to explore creativity and break free from your regular makeup routine.
So, let's dive in and discover how to rock festival makeup like a pro while ensuring it lasts all day!
This post may contain affiliate links. That means if you click and buy, I may receive a small commission (at zero cost to you). Please see my full disclosure policy for details.
How to do festival makeup?
Embrace the freedom of festival makeup by going beyond your comfort zone!
Festivals are the perfect playground for experimenting with bold colors, glitters, and unique designs.
Don't be afraid to amp up your eyeshadow with vivid hues or add some sparkle to your cheeks.
Let your imagination run wild and express your inner artist with no inhibitions.
Remember, the essence of festival makeup is about self-expression, so let your creativity shine!
How to make makeup last all day in a festival?
We all know that festivals can be long and exhilarating, so ensuring your makeup stays put is essential.
Start with a solid skincare routine and a makeup primer to create a smooth canvas.
Opt for long-wear and waterproof makeup products that can withstand the elements.
Setting sprays are a game-changer – a few spritzes will lock your makeup in place for hours.
Pack a small touch-up kit with blotting papers, setting powder, and a trusty lipstick or lip stain to refresh your look on the go.
Related: How to hot-weather-proof your makeup routine (expert tips!)
Should I wear foundation at a festival?
The choice of wearing foundation is entirely up to you, but our expert recommendation is to say yes to foundation!
However, skip heavy, thick formulas that might feel uncomfortable in the festival heat.
Instead, opt for a lightweight, high-coverage foundation or a sheer tinted moisturizer.
These options will even out your skin tone while allowing your natural beauty to shine through.
Avoid foundation sticks or cream foundations as they might melt or become cakey throughout the day.
What is rave makeup?
Rave makeup is a captivating and futuristic style that's popular among festival-goers.
It often features neon and fluorescent colors, graphic lines, and bold patterns.
Think bright eyeliners, face jewels, and electrifying accents.
Rave makeup is all about embracing your inner glow and being unapologetically vibrant.
So, if you're ready to turn heads and join the cosmic dance, rave makeup is the way to go!
How do you look good at a festival?
Looking good at a festival is all about feeling confident and staying true to your unique style.
Beyond makeup, here are some tips to rock your festival look:
Dress comfortably and wear weather-appropriate clothing.
Don't forget sunscreen and stay hydrated throughout the day.
Embrace fun accessories like flower crowns, headpieces, and cute jewelry.
Go for a hairstyle that complements your look and can withstand the dancing.
Most importantly, enjoy yourself, and let your inner beauty radiate through your smile!
Festivals are a celebration of life, and your makeup should reflect that spirit of joy and adventure.
Go ahead, try something new, and let your festival makeup be an extension of your vibrant personality.
With the right techniques and products, you'll look stunning from sunrise to sunset, dancing the night away like the festival diva you are!
Now let's dive in into easy and creative (and of course, FUN!) Makeup ideas for a festival
1. Festival Gradient Babe: Yellow, orange and purple
the first festival makeup idea: a simple yet cute orange and yellow look.
Apply yellow eyeshadow all over your lash line and blend it upwards.
Add a light orange eyeshadow to the outer corners, then create a winged eyeliner using purple eyeshadow.
Finish off with orange lips for a vibrant touch. It's a quick and stylish option to stand out at any festival without any fuss.
2. Festival rhinestones lips
Get out of your comfort zone and nail the festival makeup look by adding gems to your lips!
Once you've applied the lip color, take it up a notch by adorning your lips with carefully placed stones or rhinestones.
These little gems will add a mesmerizing sparkle to your lips, creating an eye-catching and unique festival look.
Here's a link to a good rhinestone kit that comes with glue and a rhinestones organizer
3. One-color Graphic eyeliner
Prepare to make a striking entrance with this bold and contrasting festival makeup idea.
Elevate your eye game with a teal blue graphic eyeliner that will instantly captivate onlookers.
Use your favorite teal blue eyeliner to create sharp, artistic lines along your upper lash line, extending it into a captivating wing for an edgy effect.
Keep the rest of your eye makeup minimal, allowing the teal liner to take center stage.
To balance the look, opt for soft, yet vibrant, pink lips that add a touch of playfulness and femininity.
I have this set of graphic eyeliners that are really good. Is smugdeproof and really pigmented, so easy to apply as well.
4. Orange teal blue Festival Eyes
Elevate your festival makeup with these two captivating eye looks.
Try a stunning combo of orange and teal blue eyeshadows – warm orange on the crease and captivating teal blue on the center. Complement with chic nude lips for an elegant touch.
Alternatively, go bold with purple on the center and sunny yellow on the crease.
Keep it chic with nude lips.
A great way to get this look with effort is by using eyeshadow sticks.
These affordable eyeshadow sticks are so easy to apply and blend, perfect to carry on your purse for later retouching during the festival!
Embrace the festival spirit with these eye-catching and confident makeup choices that celebrate your unique style.
5. Festival Orange Vibes Makeup
Embrace festival magic with two captivating orange eyeshadow looks.
The first flaunts nude lips, allowing the warm orange hue to shine effortlessly.
For extra glam, the second adds glitter to the orange eyeshadow, creating stunning eyes that fascinate under festival lights.
6. Blue Eyeshadow Festival Makeup Idea
The nest festival Makeup idea is bold eye makeup featuring bright blue eyeshadow.
Apply this electrifying shade to your eyelids for a captivating festival look that pops and exudes confidence
7. Matching your outfit with simple eyeliner
Two show-stopping makeup ideas that are sure to turn heads at any festival! The first features a simple yet striking graphic eyeliner in captivating blue, adding a touch of edgy elegance.
For the second, match the outfit with a bold yellow graphic eyeliner that radiates energy and style.
Embrace your creativity and make a statement with these eye-catching looks that perfectly complement your festival fashion.
8. Festival Blue cut crease
Start with a flawless and natural base that enhances your radiant glow.
Embrace a captivating cut crease in a striking blue shade, adding depth and dimension to your eyes.
For an extra touch of allure, apply a hint of the same blue shade on your lower lash line, emphasizing your eyes and making them truly enchanting.
9. festival Gradient eye makeup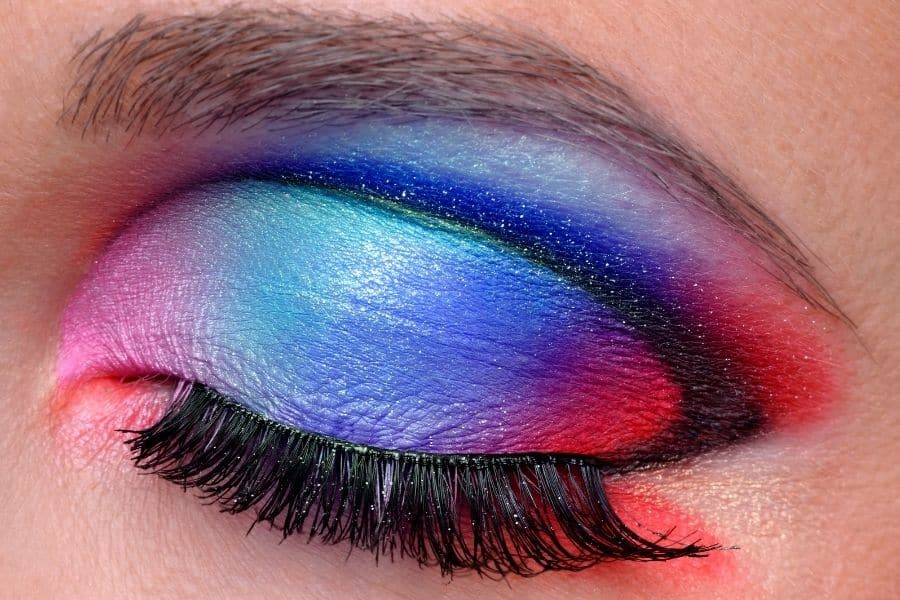 Embrace a vibrant and dynamic eye makeup idea that expertly combines a trio of captivating colors.
Begin with a soft pink shade on the inner corner, seamlessly transitioning into a bold blue on the center of the eyelids.
Then, intensify the outer corner with a striking red hue, creating a visually arresting gradient effect.
To define and accentuate the eyes, skillfully mark the crease with a precise black eyeliner.
10. Galaxy Festival Makeup Idea
Similar as the las festival makeup idea, begin with a chic nude shade on the inner corner of your eyes, creating a soft and subtle base.
Transition into a delightful pink on the center of the eyelids, infusing a playful pop of color.
To add a touch of freshness and allure, highlight the corners with a vivid green and fiery red.
This skillful blend of shades results in a captivating gradient effect that effortlessly captivates onlookers.
Let your creativity shine with this striking eye makeup, perfect for expressing your unique style and embracing the festival spirit with flair.
11. Coachella Chic: Festive Makeup Inspiration
12. Boho Beauty: Coachella Makeup Trends
13. Festival-Ready: Coachella Makeup Ideas
14. Glam Coachella Looks: Festival Makeup
15. Vibrant Coachella Makeup Idea
16. Festival Makeup: Coachella White eyeliner Glam
17. Glowing Goddesses: Coachella Makeup
18. Music Fest Glam: Coachella Makeup
19. Free-Spirited Coachella Makeup Ideas
20. Colorful Coachella Look: Festival Makeup
21. Dreamy Festival Makeup Inspiration
22. Sun-Kissed Festival Looks: Coachella Makeup
23. Fantasy Coachella: Whimsical Makeup
24. Coachella Beauty: Music Lover's Makeup
25. Festival Chic: Inspiring Boho Makeup Idea
26. Vibrant & Blue Glam: Music Festival Makeup Trend
27. Dreamy Desert Vibes: Festival-Ready Neon Makeup
28. Shimmery Glamour: Stunning Boho Look with pink lips
Related: 10 Natural Ingredients for Glowing Skin: Benefits and How to Use Them
29. Pink blush Festival Makeup Idea
30. Sun-Kissed Goddess: Radiant Summer Makeup
31. Wonderland: Fantasy Festival Look
32. Glowing & Yellow Bold: Eye-Catching Makeup Look
33. Music Fest Magic: Trendy Festival Makeup
34. Free-Spirited Neon Yellow Vibes: Effortlessly Chic Makeup
35. Goddess Glam: Neutral Festival Look
36. Coachella Dreams: Festive Makeup Inspiration
37. Enchanting Elegance: Bohemian Makeup Idea
38. Artistic Expression: Silver Stars Boho Festival Makeup Style
39. Desert Diva: Glitter Music Fest Makeup
Related: 89+ Stunning Spring & Summer Nail Ideas to Inspire your next design
40. Boho Babe: Effortless Festival Eyeliner with rhinestones
41. Radiant & Bold: Silver Glitter Festival Makeup Trend
42. Gold glitter Coachella Makeup Magic with pink lips
43. Festival Fantasy: Shimmery White-Silver eyebrows and lips Makeup
44. Golden Music Fest Look
45. Shimmery White Eyeshadow: Creative Festival Beauty
46. Boho Chic: Goddess-Inspired Makeup
47. Bold & Beautiful: Eye-Catching Fest Look
48. Trendy & Timeless: Festival Glossy Pink lips
49. Electric Blue and yellow ombre lips: Festival Makeup Inspiration
50. Red glittery Lips: Stunning Fest Makeup Look
51. Festival Fever: Boho Makeup Natural eyes, Glittery red lips
Final festival eyeshadow tips
As you prepare to conquer the festival scene with your sensational makeup looks, here are some final tips to ensure you're ready to shine all day and night. Firstly, don't be afraid to mix and match the ideas we've explored!
Combine the teal blue graphic eyeliner with the pink lips or pair the orange and teal blue eyeshadows with nude lips – the possibilities are endless!
Embrace your creativity and experiment to find the perfect festival makeup ensemble that represents your unique style.
Remember to opt for long-wear and waterproof makeup products to keep your look intact throughout the festivities.
Don't forget to pack your touch-up kit with essentials like blotting papers, setting powder, and your favorite lipstick for quick touch-ups on the go.
Lastly, let your festival makeup be an extension of your vibrant spirit and confident personality.
Have fun, dance, and bask in the magical atmosphere of festivals.
Whether you're attending a boho-chic gathering, a futuristic rave, or a whimsical fantasy-themed festival, your makeup will be the ultimate expression of your individuality and radiance.
Embrace the festival vibes and have a blast rocking your show-stopping makeup looks!
Festival makeup ideas