Valeria H. is Real Beauty School's Senior Beauty Editor and the instructor behind our makeup lessons. She's passionate about sharing beauty tips, trends, and tutorials for newbies. She's an experienced makeup artist and also the author of the popular makeup book, "Makeup Made Easy" and when she's not crafting the perfect makeup tutorial or diving deep into the latest beauty trends, you can find her enjoying her favorite latte with a cozy blanket and watching Netflix
How to apply cream bronzer for beginners! Step by step tutorial with pictures. 
Trust me, the way we usually see beauty bloggers on social media do their contour or bronzer is not the best way for everyone.

Actually, as a Makeup Artist myself, I found out that there's actually a simple routine to apply the cream bronzer that makes the skin look with a perfect bronzed, contoured face.
So here's my way to apply cream bronzer step by step with pro tips to find the best cream bronzer shade for you, the different ways to apply it, and hacks to make it look natural and flawless!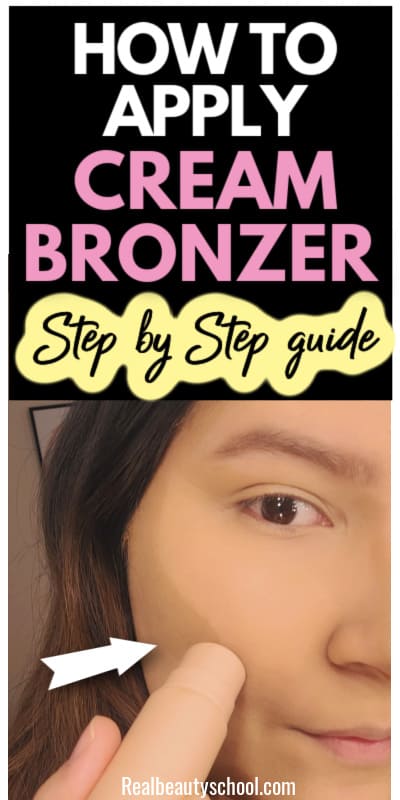 This post may contain affiliate links. That means if you click and buy, I may receive a small commission (at zero cost to you). Please see my full disclosure policy for details.
1. Prep your Skin

Like any other makeup tutorial, the best way to start is by doing the skin prep steps according to your skin type.

I have a more comprehensive guide on what to apply to your face before makeup here if you want to check it out.

In general, the essential skin prep steps regardless of your skin type is moisturizer and face primer.
Which mouisturizer and the type of face primer depend on different variables, like desired makeup finish, skin type, weather, and foundation type.
You can check more about it and my favorite skin prep products here.
Now let's continue with the next step
2. Apply foundation
The right order to apply makeup products varies depending on the formula of the products and the coverage we are trying to get.
For this cream bronzer tutorial, I'm applying my foundation first.
Related Post: How to Apply your Makeup in the right Order (Guide)
Can you apply cream bronzer before foundation?

Yes you can, and that's how bronzer and contour got popular back in Kim Kardashian times, but do I recommend it? Short answer… no.

Applying your cream bronzer before the foundation can lead to an excess of product because you need to apply an extra amount of bronzer so the foundation doesn't cover it all.
And that can make your makeup look cakey.

But if you are doing a full glam makeup for a night out, applying cream bronzer before the foundation can help to get a really full coverage glam look.

For your daily or everyday makeup routine, apply foundation first and then the rest of the creams. (including concealer)
Can you use bronzer as a foundation?
Cream bronzer is not meant to be used all around the face, my recommendation would be to avoid using bronzer as a foundation.
Some cream bronzers are too thick to be all over the face and for normal to oily skin this can be a huge problem.
However, the other way around, using foundation as a bronzer is totally okay!
If you have a foundation darker than your skin tone with the proper undertone for you, it would be a good idea to use it as a bronzer.
We'll talk about how to identify the right shade of bronzer for you below.
3. Apply concealer under eyes
Next, apply your concealer on the problem areas and the under eyes.

If you want to conceal dark circles under the eyes try using a salmon/orange (depending on your skin tone) concealer first and then 2 tones lighter than your foundation concealer on top.
I have a full guide on how to find the right concealer for you and another great guide on how to apply your concealer so it never creases or settles in fine lines.
Concealer is an important step for applying your cream bronzer because we don't want to add shades or darker tones on our face without contrasting it with lighter tones (concealer).

to keep this post focused, I will only talk about the bronzer. But concealer/highlight is also important to complete the look.
4. Identify the right bronzer shade for you
If I had to highlight only ONE essential thing about cream bronzer or bronzer, in general, it would be selecting the right shade for your skin tone and undertone.
It is super important to differentiate the tones and undertones of the bronzer shades,

first, we have the tones. Those, as foundation shades can range from light, medium, dark, and all the tones between the three.
The perfect bronzer tone for you will be a darker shade than your skin tone. Let's say about 3-4 tones darker than your skin.
A common mistake would be to pick a super deep bronzer shade that no matter how you apply it or even if you blend it well, the tone will not look good.
(I'll show you examples below)
Selecting the right bronzer tone is the easy part. It's easy to identify the tone of your skin (light, medium, dark etc) and pick a shade ranging from there.
The other part of selecting your right bronzer shade is UNDERTONE.
Secondly, we need to identify our undertone. (I won't get extended on this because I talk more about how to find your undertone here)
but in general, there are three principal undertones: WARM, COOL, and NEUTRAL.
And without getting too deep on this, if you see a bronzer shade that looks orange/red we can say it has a WARM undertone.

If you see a bronzer shade that looks BLUE/OLIVE we can say it has a COOL undertone
if you see a bronzer shade that you can't identify either orange or blue and maybe it looks grayish we can say it has a NEUTRAL undertone.
Here's an example of some cream bronzer shades and their undertone.
Honestly, the only way to learn how to identify the undertone properly is by training the eye with practice.
Some exceptions to this:

Some neutral bronzer shades tend to be more on the grayish side, and this make the skin look pale and dirty (and we don't want that) so, if you have neutral undertone (or any other undertone) be careful selecting a gray bronzer shade.

Not all the warm bronzer shades, will look good on warm undertone skins. The sweet point is a SLIGHLTY warm bronzer shade that will not make you look orange!

for yellow undertone skins, the best fit is a neautral bronzer shade.

for deep dark skins, sometimes a very deep dark bronzer shade with a grayish undertone will work better than a warm or cool shade.
My top 3 Favorite Cream Bronzers
FENTY BEAUTY BY RIHANNA Match Stix Matte Skinstick

The Fenty beauty contour stick is one of the bests bronzer sticks! It is so soft and blends perfectly on the skin. I also like the range of shades that offers.
2.Aesthetica Cosmetics Cream Contour and Highlighting Makeup Kit
Getting a cream contour palette is a smart way to start your makeup collection! Also is super convenient to have different bronzer shades so that you can play and try the best bronzer shade for your skin. The Asthetica contour palette is a great one with a reasonable price. Check the current price here.

3. LORAC PRO Conceal/contour palette
If you want a COMPLETE bronzer and highlight palette this amazing cream contour and highlight makeup palette from LORAC is the best to pick. Includes 12 different shades ranging from concealer and contour, and it also includes a cream contour brush.

This palette is a MUST-HAVE for makeup enthusiasts and makeup artists.
Related Bronzer Makeup post: The BEST Drugstore Cream bronzers (Pros and Cons of the best affordable bronzers)
5. The right areas to apply cream bronzer
Bronzer as contour makeup needs to be applied on areas depending on the face shape.
But I'll let you a few tips to consider when applying your bronzer:
Apply your bronzer under your cheekbones.
Apply bronzer on the sides of your nose.
Try to go as natural as possible in the nose area by blending it well—nothing worst than a nose contour that is notorious.
To reduce the appearance of a double chin and make your face look thinner, apply bronzer on the jawline.
Apply bronzer on the eyelids (more about this below)
Facelifting bronzer application
If you want a facelift effect try to apply your bronzer higher than the recommendation.
So we will be doing a higher bronzer application almost on the area where we usually apply blush.
Also, apply cream bronzer on the outer corner of your eyes towards the hair line in a upward direction.
Check more details on my step by step tutorial on how to apply bronzer, blush, and highlighter to fake a facelift
How to apply liquid bronzer
The best way to apply a liquid bronzer is by applying it with a flat foundation brush to set it in place, and after that, blend it with a makeup sponge until you don't see harsh lines.
How to apply bronzer with fingers
Sometimes I apply my bronzer with fingers.
Honestly, fingers are so great for foundation/concealer/bronzer and any other creams!
And this is because the natural warmth of the skin melts the product so that it applies flawlessly to the skin.
However, I recommend using your fingers to apply your bronzer only on these cases:
You are doing your own makeup (it's not so professional nor hygienic using your fingers to do makeup on clients)
You have your hands completely clean
You are using a cream bronzer stick. (We don't want to touch a cream bronzers palette for hygienic)
Transform your passion into expertise with the Master Makeup Program: from makeup fundamentals to advanced professional techniques, earn a certificate of completion PLUS bonuses– all in one online self-paced program!
How to apply cream bronzer stick
Cream bronzer can come in a bronzer palette or on a cream bronzer stick.
Both ways are great and actually, they can work in a similar way.
If you are doing your own makeup: apply your cream bronzer directly from the stick on the desired areas and blend it with a sponge
Don't forget to sanitize your bronzer stick often.
Pro tip: a Quick and effective way to sanitize your makeup sticks is by removing a thin layer of the top of the product and spraying it with some ethylic alcohol.
The key to applying your cream bronzer properly is to use a small amount of product and build the coverage from there until we are good with the results.
Avoid applying too much product because it will only lead you to have a hard time blending it.
6. Finish your makeup
Now that we applied our cream bronzer, it's time to finish the rest of our makeup.
After my cream bronzer, I do my eyes, blush, highlighter, and lips.
Now, that the makeup is finished we can now see clearly if the amount of bronzer looks good or we need to retouch it.
7. Set with powder bronzer
Next, we need to set all the creams we have including, our bronzer.
try to set your bronzer with a powder bronzer of a similar shade.
Avoid powder bronzers that have sparkles.
8. Retouch where needed
Once we have our makeup finished it's the right moment to apply more bronzer IF NEEDED.

We didn't want to apply too much product before to avoid the cakey skin looking, but now that the makeup is finished is time to really find out if more cream bronzer is needed.

How to know if we need to apply more cream bronzer? if you are wearing makeup for a night event, probable retouching with more cream bronzer would be a good idea.

If you are doing makeup more on the "natural" or "minimal" makeup side, probably applying more bronzer wouldn't be a good idea.

Conclusion on how to apply cream bronzer for beginners
In conclusion, the key to applying your cream bronzer properly is to use a small amount of product and build the coverage from there until we are good with the results, remember that like any other makeup step, it all depends on what is your style and how comfortable you feel with your makeup!
Also consider that
the best bronzer shade for you will be 3-4 tones darker than your skin tone, similar to the natural shade of the shadow on your face, and has the same undertone as your skin.
I hope you liked this step-by-step cream bronzer guide! If you have any other tips that I missed, feel free to add them to the comments section below! I'd love to hear from you.
Bye-bye!
Valeria H.
More questions? Contact us by email: [email protected]
What's next? More Makeup Guides you might like:


How to Apply Cream Bronzer like a Pro (Tips + Best Products)