Overwhelmed by all the different types of makeup brushes out there?
You are in the right place, Here are 21 Types of Makeup brushes and their uses, the complete makeup brushes guide for beginners to not lose your mind, and find the best makeup brushes for you!
As a Makeup artist, I believe that Makeup brushes are everything!
Is super important getting right makeup products to create the best makeup looks but this is just imposible to achieve if you don't have the right tools.
The right makeup brush can make the difference when you are trying to blend that dark eyeshadow on your crease or applying a shimmer shadow with setting spray.
Certainly, there are many different types of makeup brushes with different designs and technologies.
There are natural hair or fiber ones with different shapes, colors, and prices!
I think I've tried enough to share my opinion with you and my top recommendations for each different type of makeup brushes
(so you don't feel lost in your makeup brushes journey) and added some great tips to use them the right way!
Even for beginners.
In the end, you will find my Favorites makeup brushes sets (which I highly recommend for beginners) in case you want to buy a quality set, which is often more affordable than buying each makeup brush separately.
I often buy Individual makeup brushes when I find a brush that I need and not need the whole makeup set.
So, let's begin
This post may contain affiliate links. That means if you click and buy, I may receive a small commission (at zero cost to you). Please see my full disclosure policy for details.
✅This Makeup Brushes Set is our #1 recommendation. Includes all the makeup brushes you can possibly need, with premium quality for just the right price!
Want to learn more advanced makeup tips? Check our Ultimate Makeup Guide, where we packed our best makeup tips and tricks + guides + charts and everything you need to get you started!


Flat Foundation brush
How to use a flat foundation brush?
This Makeup brush is perfect for a full coverage foundation application, allowing you to keep all the product on your skin.
The right way to use a flat foundation brush is to apply foundation directly to your face and, with the brush, create a smooth move downwards to blend it well.
Pro tip: I love to use this makeup brush to apply my foundation and after that, use my beauty blender just to correct small brushes lines that can be created with the brush. But that way you don't absorb all the product with the makeup sponge like if you were applying foundation with a beauty blender.
Best flat foundation brush
Revlon flat foundation brush – Vegan and antibacterial coated
Stippling Brush
How to use a Stippling brush?
This Brush is perfect for covering blemishes and dark spots!
Because it gives amazing coverage on the skin that will be great for a full coverage glam look.
Apply small dots of product (foundation, contour, cream blush), and with circle motions, blend the product on your face.
What this stippling brush does, is that the top bristles create smaller dots of product on your skin, and the bottom layer of bristles blends and sticks the product to your skin rather than absorb it.
The final result is a full coverage airbrushed appearance.
Best Stippling Brush
Kabuki Foundation brush
What are kabuki brushes for?
Kabuki brushes are makeup or body brushes intended for face makeup and body, the most common uses are for foundation, blush, contour, and bronzer.
to identify a kabuki brush, it needs to have dense bristles; you can find kabuki brushes in different sizes, bristles angles and designs.
Best kabuki foundation brush
This brush is amazing! Blends your liquid foundation perfectly and makes it look natural with just a couple of circular motions, and you can use it for powders or creams!
It's definitively a must-have.
Powder brush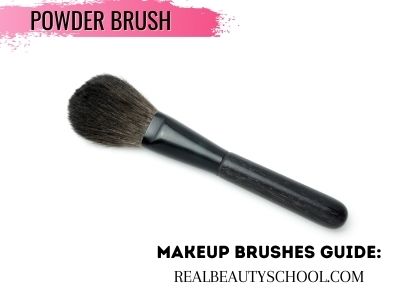 How to use a powder brush?
The right way to use a powder brush is with the brush previously been disinfected, take the powder product (loose powder or pressed powder)
directly from the pot, and apply it to your face trying to get the desired coverage and to set your makeup.
to select the perfect powder brush, you need to seek natural or synthetic SOFT hairs, that way, we ensure that the powder brush will blend all the product and won't hurt the face skin.
Best Powder Foundation brush
Related makeup post: Exactly what to apply on face before your makeup (for flawless skin)
Blush brush
The blush brush tends to be fluffy like powder brushes but smaller, and some come with an angle that makes the blush application easier.
Use this brush to blend your blush and especially powder blush.
For cream blushes, I recommend using a makeup sponge.
Best Blush Brush
Contour Brush
The difference between blush brushes and contour brushes is that contour brushes tend to be denser and works well with powders and creams.
So feel free to blend your cream contour with this brush as well!
They also came in a flat version making the application even easier.
Take your contour brush and use it directly to your contour product (powder o cream) and apply it to your face between your jaw bone and high cheeks.
Remember always to blend in an upwards direction, and for better results,
don't take the product too high or low on your cheeks.
Best Contour Brushes
Why is not everyone talking about this amazing pro contour brush set? It's incredible!
Came with different contour brush sizes to contour all your face and nose perfectly.
Bronzer brush
Yes! Bronzer has its own brush type.
A bronzer brush is similar to a blush brush, but it's more likely that it comes with an angle that makes the bronzer application easier.
Use this brush to apply your powder bronzer and blend it all over your face with a small amount of product until you look naturally bronze
Bronzer usually comes in a powder version.
I do not recommend getting a cream bronzer because powder bronzer is just amazing to give that color and tan that we need and look so natural!
Best Bronzer Brush
Concealer brush
The Concealer brush is super important in every makeup kit for beginners and pros!
It's a flat synthetic brush that allows you to distribute the concealer in the target areas and keep the coverage of the product.
It is similar to the flat foundation brush but smaller and perfect for covering dark spots, dark circles, and blemishes on your face.
Here's my favorite concealer brush for under eyes
Related Concealer post: How to find the perfect concealer shade for your skin
Small concealer brush
The small concealer brush is essential to be precise in certain areas where it can be a game-changer if we are using the wrong precise brush.
For example, for eyebrows!
If I want to define my brow perfectly, I use my small concealer brush and get the perfect eyebrows on fleek look.
This brush is also effective for fixing makeup mistakes on eyeshadow or brows makeup.
It's a versatile makeup brush that for sure is a must-have on every makeup bag.
Best Small concealer brush
WAIT! Want to Apply Makeup like a Pro? Get The Ultimate Professional Makeup Bundle and learn the Makeup fundamentals, with pro step-by-step guides, charts, cheat sheets, SECRET professional makeup tips, a makeup face chart workbook & all you need to start to level up your makeup game!
Fan/highlighter brush
I love this type of brush because it has versatile uses!
The most common use is for applying your powder highlighter on top of your cheeks.
But it's also perfect for a sheer blush coverage application,
sheer powder contour application, and even for applying face masks in your night beauty routine!
What are fan brushes for?
They are for a sheer coverage application of face powder makeup products.
For example, Highlighter, blush, contour or bronzer.
You can also use fan brushes to remove the excess eyeshadow that fallows out from your eyelids after finishing your eye makeup.
They are just amazing!
Best Flat Eyeshadow Brush
Have you ever seen many different small brushes for eyeshadow and wondered why they are so many in the first place?
Yeah, I've been there, haha
, and each eye makeup brush has its purpose and is vital for the perfect eye makeup look.
But don't worry, that's why I created this comprehensive Makeup brushes guide to finally get all the stuff together in a simple makeup brushes list.
Eyeshadow pencil brush
How to use a pencil brush?
This brush is ideal for getting precision with your eyeshadows and set the color in place.
It's the first step of the perfect eyeshadow application.
With this type of eye makeup brush, you can't blend your shadows, it's to get the color just in its place, but you will need a fluffy brush to blend all your work.
Try this amazing pencil brush from sigma here.
Eyeshadow Blending brush
OK, this eyeshadow brush is a huge MUST-HAVE in every makeup kit.
Literally, I can't live without a GOOD eyeshadow blending brush.
Because this brush creates the magic after applying your shadows, a blending brush is usually super soft and blends well with almost any powder shadow.
This brush is always life-saving when everything in my eyes looks like it's not gonna end well,
and after blending with this brush everything makes sense!
I can even say that if you feel like your eye makeup didn't look good lately,
it could be because of your blending brush or lack of it.
My top recommendation for a QUALITY blending brush is this one by NYX.
You can also try a full set of blending brushes to try different shapes and sizes and play with your shadows like this one below from real techniques.
Crease brush vs Blending brush
The difference between a crease brush and a blending brush is usually their size.
While a crease brush is a small fluffy brush that will also blend the shadows, mostly,
it will concentrate the product on the target area.
On the other hand, with a blending brush, you can smoothly blend almost any shadow application (even if you mess it up),
which is amazing! But you can't get a precise color application.
Also, it tends to be larger than crease brushes.
Eyeshadow crease brush
I can consider this brush like a mix between the pencil brush and the blending brush.
However, a crease brush is a unique piece that you definitely need on your makeup brush set.
It's perfect for the crease area (kind of obvious, haha), but also, you can use it for applying the shadows with precision on any other eyelids part.
The crease brush can also blend somehow, but not like the blending brush because their bristles are tighter.
Best Crease brush
Related Makeup post: Easy Brown Smokey eye step by step tutorial (with pictures!)
Sponge brush
How to use an eyeshadow sponge brush?
Decades ago, these sponge brushes were the bomb.
Nowadays, some eyeshadow palettes come with this type of brush (not the best consumer experience) because you can't apply your eyeshadows with precision or blend them with sponge brushes.
But let me tell you how you can use them properly!
They are perfect for glitter application, highlight the inner corner, and the brown bone, and smudge your lower lash line.
Also, they are perfect for blending your pencil eyeliner for a sexy smudge eye look.
Eyeliner brush
The eyeliner needs precision, and the right eyeliner brush is a super small brush with synthetic bristles that will allow the gel eyeliner application in a super easy way.
If you are struggling to get the perfect winged eyeliner with gel eyeliner, it could be your brush.
Pro tip: Seek for a firm angled eyeliner brush; they are better than the common eyeliner brushes.
Related Eyeliner post: The ultimate eyeliner guide for hooded eyes (with pictures)
Flat eyeliner/eyeshadow brush
This type of brush is a must-have (I know I've been saying this a lot, but this one really is)
You can use it to apply an eyeshadow eyeliner technique, to apply color to your lower lash line, or to be super precise in any other eyeshadow application.
I just love it!
I loved this set that came with 4 different eyeliner/eyeshadow makeup brushes to apply with the techniques.
Eyebrows brush
How to use an eyebrow brush?
This type of brush needs to be small, flat, and angled, which allows the creation of small baby hairs on your eyebrows to make them look natural.
First, take your brows pomade (or powder) and start creating these small hairs from the end of your brows to the center.
Check the full eyebrows on fleek tutorial post, where I share my eyebrows routine, the best eyebrows products, and step-by-step natural eyebrows tutorial with pictures!
This type of brushes usually came with a spully built-in to brush your eyebrows before and after makeup.
My top eyebrows brushes recommendations that you need to try are:
Lips brush
Yep! Lips also have their own type of makeup brush.
These tiny little brushes that definitively don't work for eyeshadow are intended for lips.
Now you know it.
The truth is that you can use these makeup brushes for lower lash liner or highlight the brow bone,
but the most important use is for a hygienic lipstick application.
If you work with clients or, for some reason, share your lipstick (liquid or creamy),
The right hygienic practice is to always take some product apart in a makeup palette and then take the product with the lip brush and apply it to the lips.
Makeup Sponge
Makeup sponges are now very popular and a MUST-HAVE in every beauty routine because with a makeup sponge,
you can blend your face products (especially liquid and creamy) in a super easy way, in minutes, and with a flawless finish!
However, you can use makeup sponges for face powders as well.
Best Makeup Sponge
The one and only beauty blender!
The original, you can now find some dupes of this makeup sponge, but anyone can really replace it.
The finish on the face is incomparable, and the quality it's amazing!
Mascara wands
The Mascara wands are essential for a hygienic mascara application if you share your mascara
(or had an eye infection and didn't want to contaminate your mascara) or if you work with clients.
They are also super helpful in removing the extra mascara once it drys on your eyes,
brushes your eyebrows, or set on place baby hairs with hairspray.
FQ&A´s
What are the best affordable makeup brushes? 
The best affordable makeup brushes set recommended by a Makeup artist is this set that contains high-quality brushes and the essentials in every makeup kit at an affordable price.
What are the basic makeup brushes needed? 
The basic Makeup brushes that every girl should have on her makeup bag is a eyeshadow blending brush, small concealer brush, powder brush, blush brush, eyebrows brush, eyeliner brush and a makeup sponge.
What are the different types of makeup brushes?
There are different types of makeup brushes categorized by face, eyes, and lips sections. However, there are also different brushes, like kabuki, natural or synthetic, and in different sizes for each category. In general, we can say that they are at least 21 different types of makeup brushes, but you can find another 2-3 sizes in each type.
How many brushes are there in makeup?
The number of makeup brushes in the makeup industry is huge. Because every brand has its own style and type of brushes with different sizes and purposes. However, for beginners, I recommend getting a complete high-quality makeup brushes set to start and then get individual makeup brushes that you need.
What is the correct way to apply makeup?
In general, start with the right skincare routine for your skin type, next do your eyebrows makeup, after that, it is recommendable do the eye makeup look desire, apply false eyelashes if needed and finalize with the face makeup products, like foundation, blush, contour, bronzer, and highlight.

Related Makeup post: The Ultimate Makeup Application Order guide
My top 5 Makeup Brushes Sets for beginners
Each makeup brush is important, but the truth is that you can find affordable makeup brushes sets with high-quality brushes that will fit almost all the needs of any makeup kit.
However, it's important to outstand that with most of the makeup brushes set, you won't get 100% satisfied with the types of brushes that come with them.
And that's why I like to add my favorite makeup brushes to my kit individually as time goes on.
Here are my TOP 3 makeup brushes set recommendations for beginners (or pros) because each set contains the essential makeup brushes for every makeup lover.
The bristles are soft, which is perfect for creating stunning makeup looks.
#1 DUcare Makeup brushes set – 27 pcs
#2 SHANY Artisan's Easel – 18 PCS with standing brush holder
#3 Anjou Makeup Brush Set, 24pcs
Final thoughts on Makeup brushes for beginners
There's a lot of information about Makeup brushes, different types, and their uses, but the final thing that I want you to know is that Makeup doesn't have strict rules, and this is applicable to makeup brushes.
The use of every makeup brush can be unlimited, but we certainly know what the best textures, sizes, and shapes for every purpose are.
I hope you find this Complete list of Makeup brushes Guide helpful, if so, please share for others!
Let me know in the comments which makeup brush you didn't know until this post.
I'd love to read from you.
Don't forget to pin it for later!
Related Popular Makeup Posts:
21 Types of Makeup Brushes and their uses (A helpful guide + reviews)