Are you looking for a good concealer for cutting the crease?
Here's a list of the best concealers to use for a cut crease! Is it best to use a white concealer for cutting the crease? And more expert cut crease tips! 
In my experience as a Makeup artist, cutting the crease doesn't consist of adding a light color on the lid, and you are ready to go.
Some tips need to be known to get clean, beautifully cut crease Makeup. 
Today I'm sharing with you what are the best concealers for cutting the crease,
what to have in consideration for picking the right cut crease concealer for you, and some secret cut crease concealer tips for you to master this makeup technique! 
This post may contain affiliate links. That means if you click and buy, I may receive a small commission (at zero cost to you). Please see my full disclosure policy for details.
Morphe White Concealer
I was about to start with my current holy grail concealer (which I'm going to talk about it next),
but If you want to achieve a cut crease makeup with INTENSE color you want to use a white concealer. 
In other words, if you want your colors to POP, you need a white concealer in your makeup kit.
This full-coverage, long-wear, and transfer-proof white concealer from morphe is the best to use for cutting the crease.
I also love the affordable price.
Pro tip: You don't want to use a cream concealer for cutting the crease. Those will only end in oily eyelids and ruining your shadows!

Tarte Shape Tape Concealer
I know this concealer is so popular out there, and you probably have heard of it so many times. But it has to be on this list!
This is actually my go-to for makeup when I really want full coverage, lightweight and long-lasting results.
I just love how this amazing concealer from Tarte cut my crease, making my eyelids feel so lightweight, dry fast, and it has a true full coverage. 
They do not have a white concealer, that's why I added the white concealer from morphe first,
but you can grab this lighter shade they offer here and get your colors pop as well! 
PRO TIP: if you are making a more casual, natural cut crease (for example with neutral colors) you should go for a light concealer and not a white one. The white one is good but can be too dramatic for some natural looks.
Best Drugstore Concealer for Cutting creases
There are two drugstore concealers that meet my standards to use to cut the crease.
Why? Because they have high-end quality! Are full coverage and matte.


The first one is the L'Oreal Infallible Full wear waterproof concealer.
This concealer is a holy grail!
It's actually a waterproof concealer which makes it the perfect concealer to cut a crease (especially on oily eyelids) and set your eyeshadows for all day long!
My second option but still good is the Elf cosmetics 16 hr camo concealer but the matte version.
I don't think the hydrating version will be a good concealer to use in the cut crease.
(I have both, and only use the matte one for my crease)
PRO TIP: The concealer featured in this post, have a large applicator that won't be useful to cut creases. For a better precision, use a small flat concealer brush or an eyebrow brush.
What Color concealer to use for a Cut crease?
Selecting the perfect concealer shade for cutting your crease will depend on the look that you want to create.
As a general rule, the best shade for cutting creases is a light concealer.
It can be the one that you would normally use under your eyes or another even lighter.
The key is to find a shade that has neutral undertones so you don't add or mix the color with the eyeshadows that you will be applying to the eyelid.

If you are looking for your shadows to really pop and look really intense, you would need a white concealer.
If you are looking to get a neutral or basic (more natural) cut crease makeup, you need to use a concealer that is lighter than your skin.
And, If you are doing a less dramatic and simple (in color) cut crease eyeshadow, you can use your regular concealer shade or your foundation. (assuming your foundation is matte)
Related Makeup post: Easy Neutral Cut crease Tutorial Step by Step (& tips for deep set/hooded eyes)

What to Consider Before Picking the best cut crease concealer?

The first thing you want to consider while you select your cut crease concealer, is the consistency of the concealer.
The best way to go is with a liquid concealer. Cream concealers tend to be oily and we don't want our eyelids to look with excessive oil.
(if you want a glossy eyeshadow look, the gloss need to be added on top, the natural oily eyelid is not what we want to mix with our shadows because it can interfere with the direction and coverage we want to create)
Another thing to have in consideration is the coverage.
There are some tips and tricks to get the perfect cut crease, but one that is key has a full coverage concealer.
This will allow you to easily and precisely cut exactly where you want, and even if you have eyeshadow underneath the concealer, the area will look even.
And of course, we want a concealer that is long wear and doesn't crease!
The eyelid is a very different area from the under eyes.
We tend to produce more oil in the eyelids, and the under eyes tend to be drier.
Not all concealers that work well in the undereye area will work as well in the eyelid.
The best way to approach this is by picking a long-wear,
matte concealer, and my favorite matte concealer for cutting creases is this one here by morphe and this one here by tarte.

Related Concealer post: The 13 hacks that will STOP your Concealer from Creasing Undereyes! (Secret tips revealed)
What product can I use instead of a concealer for cut crease?
Another product you can instead of a concealer for cutting a crease is an eyeshadow primer with medium coverage and long wear duration.
This Urban decay Eden matte primer portion is my favorite for cutting creases.
I prefer to work with a full coverage concealer when I cut the crease,
but a good eyeshadow primer like this one can also do wonders, especially if you are looking for your eyeshadows to look more vibrant.
How do you cut creases with hooded eyes?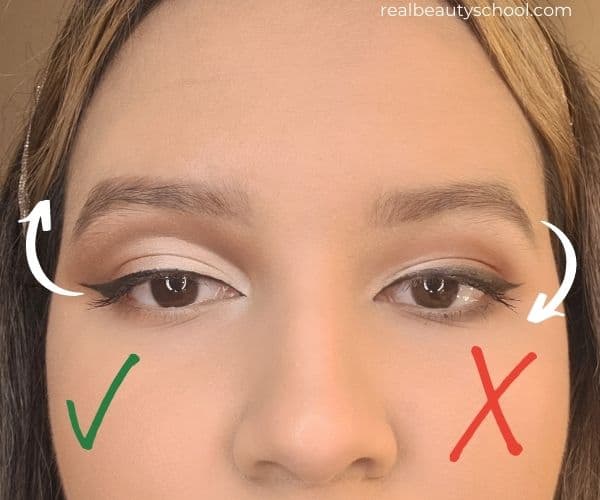 Almost all the different eye shapes can easily work with the cut crease makeup technique. However, there are two eye shapes that are more challenging than the others.
Monolids and hooded eyes.
I can say that hooded eyes are even more complicated than monolids for a cut crease.
You need a good concealer (or eyeshadow primer) to cut your crease that doesn't get cakey, patchy,
or oily because those hooded eyes will end in a total mess once you open your eyes!
A matte (kind of dry), full coverage, long-lasting and no-cakey concealer is a MUST for this type of eye.
Check my Step by step Cut crease for Hooded eyes tutorial here, where I share all my secrets on how to get the perfect cut crease on hooded eyelids (I'm a makeup artist with Hooded eyes!)
WAIT! Want to Apply Makeup like a Pro? Get The Ultimate Professional Makeup Bundle and learn the Makeup fundamentals, with pro step-by-step guides, charts, cheat sheets, SECRET professional makeup tips, a makeup face chart workbook & all you need to start to level up your makeup game!
Conclusion on the Best Concealer for cutting the crease

My favorite Concealer for cut crease is the lighter shade of the Tarte shape tape concealer.
But if you are looking to get your eyeshadows more vibrant, you want to use this white concealer from morphe.
If you are on a tight budget, my favorite drugstore concealer for cut crease is the infallible long-wear waterproof concealer.
And if you are looking for the right eyeshadow primer to use instead of a concealer for cutting your crease, the Urban decay eyeshadow primer is your way to go.
Related Makeup Posts:
The Best Concealer for Cut Crease (Reviewed + tips)