What are the best fake eyelashes for beginners? What are the easiest false eyelashes for beginners?
I'm a Makeup Artist and Makeup book author, but I was a beginner once. I remember the struggle of false eyelashes and how much I hate them until… I love them!!
False eyelashes provide a simple and easy way to enhance one's natural lashes. However, with the overwhelming options available, it can be difficult for beginners to know where to start.
I got you!
That's why we've put together this guide to the best false eyelashes for beginners, a full guide with my secret tips and tricks for easy application, and a list of our top recommendations.
Whether you're looking for a natural daytime look or a dramatic evening look, we've got you covered.
Is it better mink or silk?
What is the best size?
Which is the best model for you?
I'll walk you through the 15 best fake eyelashes for different types, styles, plus a tutorial on how to apply false lashes for beginners, and how to make them look natural,
and a couple of more Pro lashes Tips for the most effortless application!
Because yes… there is a way to apply false lashes in minutes, even for beginners, and I'm sharing it with you next.
Best False Lashes for Beginners Overall
Are you ready to join the false lash club but feeling a little overwhelmed by all the styles and options out there? Don't worry. I've got you covered!
The world of false lashes can be a bit intimidating at first, but finding the right style for you is all about understanding your own unique eye shape and desired look.
So, let's break it down!
These styles are easy to apply, comfortable to wear, and provide just enough enhancement to give your eyes a boost without being too dramatic.
So, whether you're going for a daytime look or just want to add a touch of glam to your everyday makeup routine, these lashes are the perfect starting point!
And our #1 top recommendation for this style is the next:
1. Ardel Faux Mink Wispies
I picked this Amazing Mink Wispies Set of Fake Lashes by Ardell as the TOP#1 false eyelashes selection for beginners,
because I love the model and design of the lashes suitable for all eye shapes and easy to control and apply!
Also, it came in a 4-pack set for a super reasonable price (less than $13, but you can check the price here)
Which makes having a high-quality pair of lashes super affordable!
And they are really high quality, super soft, and natural feeling lash hairs, with a thin strip/band (which I love!! I hate thick strip eyelashes, they are just the worst).
I think they are perfect for beginners because they are in a medium-size super convenient for starters.
So if you are not sure about the best style of false eyelashes for you, and/or you are looking for a soft eyelash pair that blend with the natural lashes that you can wear for a day or a night out makeup look, this is your pair!

2. Kiss Look So Natural false eyelashes
If you prefer a more natural look and are hesitant to dive into the world of dramatic false eyelashes, this option is perfect for you.
this false lashses offers a subtler enhancement for your natural lashes.
Think of it as applying a coat of a more dramatic mascara to your lashes, but with a beautifully enhanced eye makeup result.
The package includes five pairs of these lashes, and their quality is truly exceptional.
Notably lightweight and comfortable, they feel almost weightless on your eyes, making them an ideal choice for beginners.
You'll hardly feel like you're wearing anything, yet your eyes will still look captivatingly enhanced
Best False Lashes for every day
When it comes to finding the best lashes for the everyday, the key is to look for styles that are natural-looking, comfortable, and easy to apply.
Think subtle strip lashes or individual lashes (well, this style is not so recommended for beginners, requires more technique to apply) that provide just enough enhancement to give your eyes a boost without being too dramatic.
And we should add that this has to be budget-friendly? We don't want to waste pricey false eyelashes to practice, don't we? This is our best recommendation for the everyday:
(the first option above, from Ardell is also a good recommendation for the every day!)
3. Newcally False Eyelashes Natural Soft
Let's be honest, we love false lashes, and we want to use them every day!
It is super possible with these amazing false lashes at a super affordable price with excellent quality and 10 pairs set! I already tried this product myself and loved them.  

This was a super random purchase that I did on Amazon, that end pretty well!
I think this is a gold piece hide in the searches of Amazon, which I have to share with others FOR SURE! I bought it based on the reviews and the price, and I will definitely rebuy them.
They are about $1 per pair! And they are soft, natural, and just
the perfect size.
I recommend them for every day because the package has 10 pairs of lashes (
check the price here
) that will be good for 10 days, at least!
Because even if they don't say reusable, I personally reuse them 2-3 times per pair if I didn't apply mascara and took care of them.
So basically, you will have lashes for all month with this set!
Related Makeup post: Best Starter Makeup kits for every budget!
Want to learn more advanced makeup tips? Check our Ultimate Makeup Guide, where we packed our best makeup tips and tricks + guides + charts and everything you need to get you started!
4. Ardell Natural Lash lifting effect
Ardell's "Natural" Eye Lifting Effect false lashes – perfect for beginners and those who love a chill yet charming look.
These lashes give your eyes a subtle lift, making them pop without being over the top.
Get six pairs in one package for endless eye enchantment.
They're so comfy and feather-light, you'll forget you're wearing 'em! Easy to apply even for newbies.
Embrace the natural beauty vibes with Ardell's "Natural" Eye Lifting Effect lashes – simple yet stunning, day or night!
5. KISS Naked Drama False eyelashes
Introducing KISS Naked Drama lashes – for all you fierce and fabulous babes out there!
These lashes are a bit more dramatic, bringing on the wow factor without holding back. If you're ready to slay with your eyes, these lashes are your ultimate weapon.
With KISS Naked Drama, get ready to unleash your inner diva.
They add a touch of drama that's perfect for those glamorous nights out or when you want to make a statement.
These lashes are all about intensity and confidence, so get ready to turn heads and own the spotlight!
Don't worry, application is a breeze, even if you're not a pro.
These lashes come with an easy-to-use lash band, making your transformation from fierce to flawless in no time.
Plus, they feel so lightweight, you'll barely notice you're rocking them.
Best Reusable False Lashes
If you're new to the false lash game, you might be wondering what the fuss is all about with these reusable falsies.
Well, let me tell you, they are a game-changer!
Instead of disposable lashes that you toss after a single use, reusable lashes can be worn multiple times, making them a more cost-effective and eco-friendly option.
Plus, with proper care, they can last for weeks, giving you that beautiful, fluttery look day after day.
So, if you're looking for a beginner-friendly option that's not only easy on your wallet but also on the environment, reusable false lashes are the way to go!
In this section, I'll share with you my top picks for the best reusable false lashes for beginners.
6. BEPHOLAN 3D reusable Mink Lashes
Yes! There are Reusable False lashes that usually are pricey, and it's okay because it is worth the price.
But THIS pair of reusable lashes are the exception!
They are reusable and CHEAP (check the price here)
They come with more quality than regular lashes, and with the right cleaning routine, you can reuse them up to 30 times!
What I liked about these lashes is that they have a clear band but thick enough to handle the 3D and 5D effect that it has.
What do 5D false lashes mean?
The term "5D false lashes" refers to a style of false lashes that are designed to provide a fuller, fluffier, and more dimensional look compared to traditional false lashes.
The "5D" refers to the five layers of lashes that are stacked and blended together to create the illusion of thicker, more voluminous lashes.
This style of false lashes is often favored by those who want a more dramatic and eye-catching look, and they are often used for special occasions or evening events.
However, it's worth noting that the term "5D" is not a standardized industry definition, and its meaning can vary between different brands and manufacturers.
Ultimately, the term "5D false lashes" is used as a marketing term to describe a particular style of false lashes and may not necessarily indicate the actual number of layers in the lashes.


Pro tip: After using your lashes soak them in makeup remover and gently remove the glue and mascara of it, after that take a spully and shape them and place them again in their package to maintain the curved shape properly.
WAIT! Want to Apply Makeup like a Pro? Get The Ultimate Professional Makeup Bundle and learn the Makeup fundamentals, with pro step-by-step guides, charts, cheat sheets, SECRET professional makeup tips, a makeup face chart workbook & all you need to start to level up your makeup game!
Best Fake Eyelashes for beginners – Value Pack
Are you a false lash newbie, ready to take your look to the next level, but worried about committing to just one style?
Well, I've got some great news for you!
A value pack of false lashes is the perfect solution!
Not only do you get to try out multiple styles and find the perfect one for you, but you also get to save money in the process.
7. ELIACE 50 pairs 5 styles Eyelashes with tweezers
So let's say it's smarter to start practicing with an affordable value pack? To avoid wasting money with the pricey eyelashes, let's practice with a cheap pack (that are usually really good for the price to be honest)
So this is the best Value Pack for any eyelash beginner! 50 pairs for the price it's a good deal!
These eyelashes are soft and easy to manage, and it contains 5 different styles to try on your eyes and find the perfect for you.
When you are starting with eyelashes, you don't know exactly how they will look on your eye, and like everything with makeup, you need some actual practice to get it perfectly.

It also comes with free tweezers.

8. SHEGLAM false Eyelashes packs
Sheglam is a beauty brand that has actually surprised me recently, and I have an entire review post trying a full face of makeup using only sheglam products here, talking more about why they surprised me and how good/bad their products are.
I had to add their false eyelashes value packs to this false eyelashes for beginners list.
Why? They are actually GREAT AND AFFORDABLE.
If you are looking for the cheapest yet high-quality pair of eyelashes on this list, this is the one.
They have a so many different styles to choose from, here's one with a more natural-looking density, and here's one for a more bold, dramatic look.
The price is the best part!
Best Fake Lashes for beginners: Best style for Hooded Eyes
For hooded eyes, styles with shorter and more spaced out lashes work well to enhance the shape of the eyes and make them appear more open.
Lashes that are longer and more dramatic towards the outer corners are also a good option, as they help to elongate the eyes and create the illusion of a more lifted eyelid.
It's also important to look for lashes that are flexible and lightweight, as this will help them blend seamlessly with your natural lashes and avoid adding weight to your eyelids.
Individual lashes or flared styles are also great options for hooded eyes, as they provide a subtle, yet noticeable, enhancement.
9. KISS ever ez Lashes no. 11
Like most of you know (or probably not haha), I have Hooded Eyes (extra skin dropping from the brow bone and small-to-no lid), and I have a popular post: How to apply eyeshadow for Hooded Eyes.
After doing my eyeshadows, I almost always next apply my false lashes!
And the best lashes for hooded eyes have a natural-looking, perfect medium size, and of course, a clear strip like this set by Kiss.
The clear band is ESSENTIAL for Hooded eyes.
Because we want to show our small lid as much as possible when we open our eyes,
and with a black thick strip on false lashes, the strip hides even more the eyelid, and that makes your hooded eye look even more hooded.
10. JIMIRE Mink Lashes Fluffy Cat Eye Lashes
IF you want a pair of eyelashes that really make your eyes pop and enhance your dramatic, bold makeup looks, this is your best choice!
These pair of false eyelashes are perfect for the beginner that is also ready to look different and take her/their makeup to the next level!
I personally recommend this type of eyelash for a night out or a special occasion, but of course, you can wear them whenever you want!
This price is also super affordable, check the current price here.
Best Fake Lashes that look natural
11. 3D Fake Eyelashes by EMEDA
The natural-looking false lashes are an excellent option for a simple pop of radiance and for looking more awake any day.
These are perfect to use with a no-makeup-makeup look or a soft brown smokey eye for a party night.
I love always using natural "false lashes" on my looks, I'm more that type of person, but this is still a personal preference.
These false lashes are Ideal for any beginners because they are 3D, Reusable, really soft, the perfect bold, and the perfect size (just right, not too big and not too small)
and the price is just as awesome as the rest of the features (check their price here).
Related Makeup post: Easy Step by Step tutorial for the perfect Brown Smokey Eye look
12. Ardell "Best of" Natural Variety Pack
If you are still undecided on what pair of lashes will fit better your eye shape, this is the best option for you. (Check the current price here)
And this because it has a variety of natural-looking eyelashes in different designs to try all four on your eyes for every mood and for every makeup look, which is a great PLUS.
They are lightweight, easy to apply, and reusable.


Related Makeup post: How to Find the Right Concealer Shade for your under eyes
13. KISS Falscara false eyelashes starter kit
If you want to stay away from getting lash extensions, this is your kit!
These false eyelashes are like a DIY lash extensions kit at home, without the pain of permanent lashes that might eventually destroy your natural lashes (not all the cases end badly with lash extensions, but it is a common issue)
How does this kit work?
I give my natural lashes a light brush with Bond – a little goes a long way!
Using the Falscara Eyelash Applicator, I pick a Wisp from the tray – I go for the middle-outer end for better control. I gently place each Wisp under my natural lashes, slightly away from the waterline.
To keep the Wisps in place, I lightly dab Seal under them.
Some tips: I start applying Wisps from the outer corner of my lashline, working my way inward. I make sure the Wisps are close together for a natural look. If I need to, I use the applicator or my fingers to press the Wisps against my natural lashes.
To keep my kit in tip-top shape, I clean off any Bond residue after use with rubbing alcohol or makeup remover.
With gentle care, the lashes are reusable.
14. Glamnetic Magnetic Eyelashes
Are magnetic eyelashes a good option for beginners? Totally! I usually recommend beginners to start with glue lashes to learn how to manage the glue and because with the trick I show you in the guide below, the application is super easy.
However, I also have found that some types of magnetic eyelashes is great even for beginners!
I have a full guide and review on magnetic eyelashes and magnetic eyeliner here if you want to know more about magnetic false eyelashes.
The Glamnetic magnetic eyelashes kit, it's as easy as applying your eyeliner and then placing your false lashes on top.
They presume a 1-minute timeframe for application.
I should say it's partially true.
If you dominate eyeliner application then yes! A 1-minute application will be true for you,
but let's say a 5-10 minute application sounds more accurate to me.
I love the styles they offer, and you can wear this up to 60 times!! You can check them out here
Best Fake EyeLashes glue

15. DUO Brush-On Lash Adhesive
There are different types of glues. Some have latex; others are black or clear.
What I prefer when I'm selecting a false lashes glue is that it drys clear instead of black.
So if I made a Mistake, it is not showing it. And this Clear eyelashes glue by DUO is the king!
Because it also came with a built-in brush applicator that makes everything so much easier.
What about no-glue fake eyelashes?
Yes! Magnetic False Lashes are a type of lashes that, with a small magnetic strip, stick to your natural lashes, and there's no need for glue.
In general, I don't recommend Magnetic lashes for beginners
but check this comparison video of Regular band false lashes VS magnetic Lashes.
How to put on false lashes for beginners?
Take your Strip false lashes, and apply a small amount of false lashes glue. Wait 30-60 seconds for the glue to get sticky.
With a false lash applicator or your hands, apply it to your natural lash line, starting with the outer corner to the inner corner.
Here's a Full False Lashes Tutorial
Pro Tip: waiting 30-60 seconds or more depending on the amount of lash glue is KEY to apply your false lashes easily.
STEP 1. APPLY THE FALSE LASHES GLUE
I'm using this drugstore glue by Kiss that I've loved lately.
It comes with a small applicator making it so much easier to use even directly to the eyes.
Here's the exact amount of lash glue that I often use.
STEP 2. WAIT 1 MINUTE BEFORE THE APPLICATION
These False lashes hack needs to be a step because it is just definitive for ruining your false lashes application or the perfect and easy application.
The glue drys a little bit and becomes sticky, and that's what we want!
Once we have this texture is super easy to set it with your eyes.
Otherwise, the glue is still super liquid, and it goes all over the eyelids, and the lashes won't stick on your eyes.
STEP 3. APPLY IT TO YOUR NATURAL LASH LINE
To find the right spot to place your false lashes, you need to put it in your eyelid skin but almost trying to get to your natural lash line.
DON'T apply the strip false lashes on your natural lashes. The strip needs to stick on your eyelid, not in your lashes.
Place them first on the outer corner and keep placing them until all the strip sticks on the lash line.
Pro Tip: with your finger, try to lift the false lashes upwards and give them the right direction. If you skip this step, you will probably get dropped lashes.
STEP 4. PUT YOUR NATURAL LASHES AND FALSE LASHES TOGETHER
There are a couple of tips you need to do for a more natural look if you see you need them.
Tip #1: Curl your lashes after application, so all the lashes natural and "fake" will have the same curvature.
Tip #2. Use your fingers or False lashes applicator to put them together upwards direction
Tip #3. Apply a small coat of Mascara (but remember to clean your false lashes after use for more uses)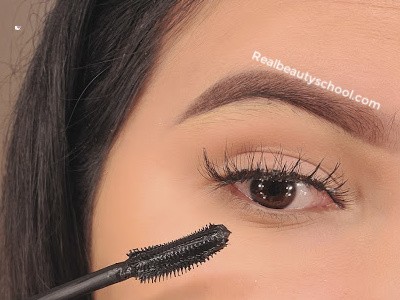 Related Makeup post: The 10 Best Under-eye Drugstore Concealers (guide & reviews)
Frequently Asked Questions about Fake Eyelashes
What are the best and easiest false eyelashes?
The easiest false lashes are the strip/band lashes instead of the magnetic or the individual.
The strip false lashes are more comfortable to manage and easy to apply for beginners.
Even better is the strip/band is clear or transparent.
Should you put false eyelashes on first?
This can be optional. If you are doing natural-looking everyday makeup, your lashes definitely can be first.
But in most cases, it is ideal for applying your false lashes at the end of the Makeup look.
Because that way, you are freer to play with eyeshadow, eyeliner, and more without big fake lashes in your way.
Related Makeup Post: How to Apply Foundation (so it looks perfect)
Can you wear fake lashes every day?
Yes, you can wear fake lashes every day, make sure you change your lashes every day, clean them, and apply a new amount of glue.
This talking about not-permanently fake lashes.
For permanent false lashes, you don't need this.
The permanent lashes have a permanent glue that will last between 1-3 weeks.
How do I choose false eyelashes?
First, you need to select the right size. Usually, a Medium size of lashes will be suitable for the majority of the eyes.
However, it is an option to seek a larger or smaller pair.
Second, select if you want natural-looking "fake" lashes or more dramatic bold lashes.
After that, select base your needs.
If you are using false lashes every day, you should buy a package of different pairs that are reusable.
If you are seeking false lashes for some days that you want to wear them with produced Makeup.
Seek for a single reusable false lashes pair or a set.
Pro Tip: Always go for more natural hairs, like human hair false lashes and avoid the plastic and static lashes.
How long do false lashes last?
This depends on the lashes, most of them (without the package saying it) last 2-5 times.
But there are others that are entirely reusable and last up to 30 times.
Are there different lash styles for different eye shapes?
Yes, certain lash styles can enhance specific eye shapes. For example, almond-shaped eyes can rock most styles, while hooded eyes may benefit from longer lashes in the center.
Can I apply mascara to false eyelashes?
While it's possible, it's best to avoid applying mascara to false lashes, as it can clump and damage them. But either way I still encourage mascara application ( a thin layer ) to blend better your natural lashes with the false lashes
How do I clean and maintain false eyelashes for reuse?
To ensure your false eyelashes are ready for multiple uses, follow these steps for proper cleaning and maintenance:
Gently Remove Adhesive: After removing the false lashes, use tweezers or your fingers to peel off any excess lash adhesive from the lash band. Be careful not to pull or tug too hard to avoid damaging the lashes.
Clean the Lashes: Take a cotton swab or a small brush dipped in a gentle oil-free makeup remover. Lightly dab it along the lash band to remove any remaining glue, mascara, or eyeliner residue. Do not soak the lashes in water, as it can cause them to lose their shape.
Sanitize with Alcohol: To disinfect the lashes, moisten a cotton pad with alcohol (70% isopropyl) and gently wipe the lash band. This step helps to remove any bacteria or germs and keeps the lashes hygienic for future use.
Store Properly: Once the lashes are clean and dry, store them in their original packaging or a clean, dry lash case. This protects them from dust and keeps their shape intact until the next use.
What's the best way to store false eyelashes?
Proper storage is crucial to preserve the shape and extend the lifespan of your false eyelashes. Here's how to store them correctly:
Keep Original Packaging: After removing your false lashes, place them back into their original tray or packaging. This helps maintain their curve and prevents them from getting tangled with other items.
Use a Lash Case: Invest in a clean and compact lash case designed to hold and protect false eyelashes. Place the lashes gently in the case, ensuring the lash band is straight and not bent.
Keep Away from Moisture: Avoid storing lashes in a humid environment, such as the bathroom, as moisture can affect their shape and adhesiveness.
Avoid Makeup Residue: Before storing, ensure the lashes are free from any makeup residue. Clean them following the steps mentioned earlier if needed.
Are magnetic lashes better than glue? or Viceversa
The best way to start with false eyelashes is with glue eyelashes.
However, magnetic lashes are also a great option to try for beginners.
Especially if you have problems putting your eyelashes in place because magnetic eyelashes are easier to put on the eyes.

The only part that makes me prefer glue eyelashes for beginners is
that with magnetic glue you need to be also good at either applying eyeliner (magnetic eyeliner) or handling two pairs of eyelashes at the same time.
For those magnetic eyelashes that require two lashes with magnets in order to be applied on the natural lashes.
If you feel like eyeliner is not a problem for you, I highly recommend this magnetic eyelashes and eyeliner kit.
It's super easy to just do your eyeliner as usual and then plop in your false lashes in seconds.
And in case you were wondering, they stay in place all day!

Also, check my complete tutorial with the step-by-step guide for magnetic eyelashes.
Hey! Are you Over 30? There is so much ESSENTIAL information about anti-aging that every single woman +30 should know! The Longevity Book explores what history, biology, neuroscience, and the women's health movement can teach us about maintaining optimal health as we transition from our 30s to midlife. I love books, but I'm too busy to read, so I honestly recommend the audiobook version PLUS you can access it for FREE here with an Audible trial.
Final thoughts on Best False Lashes for beginners
The best part of false lashes is that they can change your look in a fascinating way!
No matter how basic it is, any makeup look can turn into a stunning drama look with the right false lashes.

I hope you find this simple guide and false lashes for beginner's tutorial.
If so, please share with others and comment below whats your favorite pair of false lashes?
Related Makeup posts:



Best Fake Eyelashes For Beginners (Guide and Reviews)