Last updated on November 21st, 2022 at 05:19 am
False lashes have always been a game-changer with my makeup looks, and choosing the best false lashes for beginners with all the falsies in the market can be overwhelmed.
Is it better mink or silk?
What is the best size?
Which is the best model for you?
That's why I created this Best Fake eyelashes for beginner's Simple guide.
I'll walk you through the 7 best fake eyelashes for different types,
how to apply false lashes for beginners, how to make them look natural,
and a couple of more Pro lashes Tips for the most effortless application!
Because yes… there is a way to apply false lashes in minutes, even for beginners, and I'm sharing it with you next.
Want to learn more about professional makeup? Check My Ultimate makeup bundle, where I packed my best makeup tips and tricks + guides + charts and everything you need to get you started!
Best False Lashes for beginners Overall
#1 Ardel Faux Mink Wispies
I choose this Amazing Mink Wispies Set of Fake Lashes by Ardell as the TOP#1 false eyelashes selection for beginners,
because I love the model and design of the lashes suitable for all the eye shapes, and easy to control!
Also, it came in a 4-pack set for a super reasonable price (less than $13, but you can check the price here)
Which makes having a high-quality pair of lashes super affordable!
And they are really high quality, super soft, and natural feeling lash hairs, with a thin strip/band (which I love!! I hate thick strip eyelashes, they are just the worst).
I think they are perfect for beginners because they are in a medium-size super convenient for starters.

Best False Lashes for every day
#2 Newcally False Eyelashes Natural Soft
Let's be honest, we love false lashes, and we want to use them every day!
It is super possible with these amazing false lashes at a super affordable price with excellent quality and 10 pairs set! I already tried this product myself and loved them.  

This was a super random purchase that I did on Amazon, that end pretty well!
I think this is a gold piece hide in the searches of Amazon, which I have to share with others FOR SURE! I bought it based on the reviews and the price, and I will definitely rebuy them.
They are about $1 per pair! And they are soft, natural, and just
the perfect size.
I recommend them for every day because the package has 10 pairs of lashes (
check the price here
) that will be good for 10 days, at least!
Because even if they don't say reusable, I personally reuse them 2-3 times per pair if I didn't apply mascara and took care of them.
So basically, you will have lashes for all month with this set!
Related Makeup post: Best Starter Makeup kits for every budget!
Best Reusable False Lashes
#3 BEPHOLAN 3D reusable Mink Lashes
Yes! There are Reusable False lashes that usually are pricey and it's okay because it is worth the price.
But THIS pair of reusable lashes are the exception!
They are reusable and CHEAP (check the price here)
They come with more quality than regular lashes, and with the right cleaning routine, you can reuse your lashes up to 30 times!
What I liked about these lashes is that they have a clear band but thick enough to handle the 3D and 5D effect that it has.
What do 5D false lashes mean?
This means that the fake eyelashes are fluffy, with different lengths and hair directions that make them more natural and more bold.


Pro tip: After using your lashes soak them in makeup remover and gently remove the glue and mascara of it, after that take a spully and shape them and place them again in their package to maintain the curved shape properly.
WAIT! Want to Apply Makeup like a Pro? Get The Ultimate Professional Makeup Bundle and learn the Makeup fundamentals, with pro step-by-step guides, charts, cheat sheets, SECRET professional makeup tips, a makeup face chart workbook & all you need to start to level up your makeup game!
Best Fake Eyelashes Value Pack
#4 ELIACE 50 pairs 5 styles Eyelashes with tweezers
When you are starting with eyelashes you don't know exactly how they will look on your eye, and like everything with makeup you need some real practice to perfectly get it.
So this is the best Value Pack for any eyelashes beginner! 50 pairs for less than $15 that's a steal!
These eyelashes are soft, easy to manage and it contains 5 different styles to try on your eyes and find the perfect for you.

It also comes with free tweezers.

Best Fake Lashes for Hooded Eyes
#5 KISS ever ez Lashes no. 11
Like most of you know (or probably not haha), I have Hooded Eyes (extra skin dropping from the brow bone and small-to-no lid), and I have a popular post: How to apply eyeshadow for Hooded Eyes.
And this is the second part. After doing my eyeshadows, I almost always next apply my false lashes!
And the best lashes for hooded eyes have a natural-looking, perfect medium size, and of course, a clear strip like this set by Kiss.
The clear band is ESSENTIAL for Hooded eyes.
Because we want to show our small lid as much as possible when we open our eyes,
and with a black thick strip on false lashes, the strip hides even more the eyelid, and that makes your hooded eye look even more hooded.
Best Fake Lashes that look natural
#6 3D Fake Eyelashes by EMEDA
The natural-looking false lashes are an excellent option for a simple pop of radiance and for looking more awake any day.
These are perfect to use with a no-makeup-makeup look or a soft brown smokey eye for a party night.
I love always using natural "false lashes" on my looks, I'm more that type of person, but this is still a personal preference.
These false lashes are Ideal for any beginners because they are 3D, Reusable, really soft, the perfect bold, and the perfect size (just right, not too big and not too small)
and the price is just as awesome as the rest of the features (check their price here).
Related Makeup post: Easy Step by Step tutorial for the perfect Brown Smokey Eye look
#7 Ardell "Best of" Natural Variety Pack
If you are still undecided on what pair of lashes will fit better your eye shape, this is the best option for you. (Check the current price here)
And this because it has a variety of natural-looking eyelashes in different designs to try all four on your eyes for every mood and for every makeup look, which is a great PLUS.
They are lightweight, easy to apply, and reusable.


Related Makeup post: How to Find the Right Concealer Shade for your under eyes
Best Fake EyeLashes glue

DUO Brush-On Lash Adhesive
There are different types of glues. Some have latex; others are black or clear.
What I prefer when I'm selecting a false lashes glue is that it drys clear instead of black.
So if I made a Mistake, it is not showing it. And this Clear eyelashes glue by DUO is the king!
Because it also came with a built-in brush applicator that makes everything so much easier.
What about no-glue fake eyelashes?
Yes! Magnetic False Lashes are a type of lashes that, with a small magnetic strip, stick to your natural lashes, and there's no need for glue.
In general, I don't recommend Magnetic lashes for beginners
but check this comparison video of Regular band false lashes VS magnetic Lashes.
How to put on false lashes for beginners?
Take your Strip false lashes, and apply a small amount of false lashes glue. Wait 30-60 seconds for the glue to get sticky.
With a false lash applicator or your hands, apply it to your natural lash line, starting with the outer corner to the inner corner.
Here's a Full False Lashes Tutorial
Pro Tip: waiting 30-60 seconds or more depending on the amount of lash glue is KEY to apply your false lashes easily.
STEP 1. APPLY THE FALSE LASHES GLUE
I'm using this drugstore glue by Kiss that I've loved lately.
It comes with a small applicator making it so much easier to use even directly to the eyes.
Here's the exact amount of lash glue that I often use.
STEP 2. WAIT 1 MINUTE BEFORE THE APPLICATION
These False lashes hack needs to be a step because it is just definitive for ruining your false lashes application or the perfect and easy application.
The glue drys a little bit and becomes sticky, and that's what we want!
Once we have this texture is super easy to set it with your eyes.
Otherwise, the glue is still super liquid, and it goes all over the eyelids, and the lashes won't stick on your eyes.
STEP 3. APPLY IT TO YOUR NATURAL LASH LINE
To find the right spot to place your false lashes, you need to put it in your eyelid skin but almost trying to get to your natural lash line.
DON'T apply the strip false lashes on your natural lashes. The strip needs to stick on your eyelid, not in your lashes.
Place them first on the outer corner and keep placing them until all the strip sticks on the lash line.
Pro Tip: with your finger, try to lift the false lashes upwards and give them the right direction. If you skip this step, you will probably get dropped lashes.
STEP 4. PUT YOUR NATURAL LASHES AND FALSE LASHES TOGETHER
There are a couple of tips you need to do for a more natural look if you see you need them.
Tip #1: Curl your lashes after application, so all the lashes natural and "fake" will have the same curvature.
Tip #2. Use your fingers or False lashes applicator to put them together upwards direction
Tip #3. Apply a small coat of Mascara (but remember to clean your false lashes after use for more uses)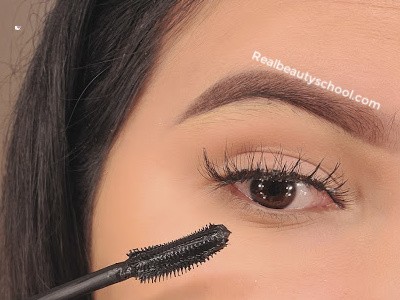 Related Makeup post: The 10 Best Under-eye Drugstore Concealers (guide & reviews)
Frequently Asked Questions about Fake Eyelashes
What are the best and easiest false eyelashes?
The easiest false lashes are the strip/band lashes instead of the magnetic or the individual.
The strip false lashes are more comfortable to manage and easy to apply for beginners.
Even better is the strip/band is clear or transparent.
Should you put false eyelashes on first?
This can be optional. If you are doing natural-looking everyday makeup, your lashes definitely can be first.
But in most cases, it is ideal for applying your false lashes at the end of the Makeup look.
Because that way, you are freer to play with eyeshadow, eyeliner, and more without big fake lashes in your way.
Related Makeup Post: How to Apply Foundation (so it looks perfect)
Can you wear fake lashes every day?
Yes, you can wear fake lashes every day, make sure you change your lashes every day, clean them, and apply a new amount of glue.
This talking about not-permanently fake lashes.
For permanent false lashes, you don't need this.
The permanent lashes have a permanent glue that will last between 1-3 weeks.
How do I choose false eyelashes?
First, you need to select the right size. Usually, a Medium size of lashes will be suitable for the majority of the eyes.
However, it is an option to seek a larger or smaller pair.
Second, select if you want natural-looking "fake" lashes or more dramatic bold lashes.
After that, select base your needs.
If you are using false lashes every day, you should buy a package of different pairs that are reusable.
If you are seeking false lashes for some days that you want to wear them with produced Makeup.
Seek for a single reusable false lashes pair or a set.
Pro Tip: Always go for more natural hairs, like human hair false lashes and avoid the plastic and static lashes.
How long do false lashes last?
This depends on the lashes, most of them (without the package saying it) last 2-5 times.
But there are others that are entirely reusable and last up to 30 times.
Are magnetic lashes better than glue? or Viceversa
The best way to start with false eyelashes is with glue eyelashes.
However, magnetic lashes are also a great option to try for beginners.
Especially if you have problems putting your eyelashes in place because magnetic eyelashes are easier to put on the eyes.

The only part that makes me prefer glue eyelashes for beginners is
that with magnetic glue you need to be also good at either applying eyeliner (magnetic eyeliner) or handling two pairs of eyelashes at the same time.
For those magnetic eyelashes that require two lashes with magnets in order to be applied on the natural lashes.
If you feel like eyeliner is not a problem for you, I highly recommend this magnetic eyelashes and eyeliner kit.
It's super easy to just do your eyeliner as usual and then plop in your false lashes in seconds.
And in case you were wondering, they stay in place all day!

Also, check my complete tutorial with the step-by-step guide for magnetic eyelashes.
Hey! Are you Over 30? There is so much ESSENTIAL information about anti-aging that every single woman +30 should know! The Longevity Book explores what history, biology, neuroscience, and the women's health movement can teach us about maintaining optimal health as we transition from our 30s to midlife. I love books, but I'm too busy to read, so I honestly recommend the audiobook version PLUS you can access it for FREE here with an Audible trial.
Final thoughts on Best False Lashes for beginners
The best part of false lashes is that they can change your look in a fascinating way!
No matter how basic it is, any makeup look can turn into a stunning drama look with the right false lashes.

I hope you find this simple guide and false lashes for beginner's tutorial.
If so, please share with others and comment below whats your favorite pair of false lashes?
Related Makeup posts:



7 Best Fake Eyelashes For Beginners (Guide and Reviews)