Overwhelmed with all the eyeshades? OR wondering what's the best eyeshadow look or colors for your eyes. Here's The Ultimate Guide on How to Apply Eyeshadow for Beginners!

And pro Makeup tips to finally master the perfect eyeshadow technique for your specific eye shape, recommended tools, how to use them, and the best eyeshadow colors to enhance your eyes like a pro.

Let's get started.

I have to be honest with you. I love those Youtube Makeup videos! I think they are so helpful and good for Inspiration.

However, there are some eye makeup basics principles and techniques that we need to know as beginners, and decoding those youtube videos takes so much time!

Let's start with the basics, then I'll show you crucial prep steps and essential tools to apply eyeshadow, and at the end, you will find 5 different eye makeup looks to start practicing today with pro tips for every eye shape!
This post may contain affiliate links. That means if you click and buy, I may receive a small commission (at zero cost to you). Please see my full disclosure policy for details.


Eye Makeup basic Terminology


Every Makeup tutorial points towards a specific part of the eye, and we barely know eyelid and waterline, right? Some eye terms are essential to name for Makeup.



Here's an Eye makeup terms and parts Diagram




Brow Bone


The brow bone is the area of the eye right below the eyebrow where you can feel the bone. Usually, this area is also known as "The Highlight area" because it is one of the high points where you want to apply highlight.

The brow bone needs to be highlighted, and a common mistake is taking the eyeshadow towards the brow bone without leaving at least a small space to apply a lighter/highlight shade.

People with big brow bone or an excess of skin falling from it (Specially Hooded eyes) need to be careful when highlighting this area. We want to add a pop of highlight, but we don't want to enhance even more the brow bone and suppressed the rest of the eye.

The best way to highlight the brow bone for those cases is by adding a thin line of highlight just below the eyebrows without taking it down to the rest of the eyelid.

Here's a full tutorial with more details about the best Eye makeup tips and tricks for Hooded eyes.


Crease


The crease is the fold or line that divides the eyelid's mobile part with the static eyelid.
Often this area is deepened by applying dark eyeshadow.
For Monolid eyes and Hooded eyes, it is more difficult to find their crease. A pro tip is to create a "fake crease" where it is supposed to be the crease to create the illusion of bigger eyes and a defined crease.

Related Makeup post: How to cut-crease for Hooded Eyes (with pictures!)


Eyelid


The Eyelid is the mobile part of the eye right below the crease.

And this is also divided into the inner corner and outer corner.



Inner Corner


The inner corner of the eye is the area of the eyelid closer to the tear duct.
You want to apply light shades to the inner corner to make your eyes look bigger and awake, especially if you have close-set eyes.

Halo eyes and Smokey eye is the exception for this.


Outer Corner


The outer corner is the eyelid area closer to the end of the eye, towards the hairline.
This Eye part can also be called outer V., and it's because you need to image an inverted V in the outer corner of your eye between the cut crease and the lash line for some eye makeup techniques.

Dark shades go well on this area, and it's more common to deepen this area especially using the inverted V technique. (more about this below)


Waterline


The waterline is the lash line's internal area that is closer to the eye, and it is watery.
There is an upper and lower waterline, and you can apply eyeliner (usually pencil eyeliner) on both, taking extra precautions since it is a super-sensitive area of the eye.

If you want to make your eyes look small or deepen your eye makeup look apply black pencil eyeliner, AND if you're going to make your eye look more prominent for a natural makeup look, use white/beige pencil eyeliner.

The next tip might be super obvious, but NEVER use powder eyeshadow on the waterline. This area is delicate, and even pencil eyeliners that are "designed" for this purpose can cause irritation or infections.


Tearduct

The tear duct is the wet area in the inner corner of the eye. The tear duct must always be highlighted, which means you can use either a shimmer light shade or your highlighter on this area to get a cute final touch on your eye makeup look.

Trust me, and it really makes the difference between a highlighted tear duct vs. a non-highlighted one in terms of making the makeup look more clean and professional.


Lower lash line

The lower lash line is the area right below the lower lashes.
For natural looks, apply lighter eyeshadow shades on this area, and for more dramatic looks, apply dark shadows or eyeliner.



Upper lashline

The upper lash line is the area right above the upper lashes, and here's where the eyeliner goes for a casual eyeliner, winged eyeliner, or eyeshadow eyeliner.




Eyeshadow Essential tools


As a Makeup Artist, I honestly believe that the KEY to a perfect eyeshadow look is the TOOLS! I can make any eyeshadow work if I have the right brush and vice versa. Even the best eyeshadow formulation can end in a total disaster with a poor-quality brush.

I have a complete makeup brushes guide with a free printable of the essential makeup brushes for the face, eyes, and lips. Still, for this post, I will cover only the necessary makeup brushes to apply your eyeshadows.
---
---
Eyeshadow brushes guide
Blending brush
I think every person who does eye makeup needs a GOOD blending brush in their kit. This brush makes the total difference when you are trying to create a professional-like eyeshadow look.
The correct blending technique is essential to make the eyeshadow look flawless, and you can not accomplish it without a blending brush.
The blending brushes tend to be fluffy, with soft hairs that blend so easily any powder eyeshadow. I recommend a medium-sized blending brush and probably have a smaller one, and a bigger one will improve the blending technique as well.
Pencil brush
The pencil brush is a small eyeshadow makeup brush with a pencil shape, as the name says. With this brush, you can apply eyeshadow more precisely but at the same time distributing the product to the desired area without leaving harsh lines.
I love this type of brush, and it is a must for almost any eyeshadow look I do! I often use it when I want the shade on a specific area without taking it all over the eyelid, but I don't want it to look patchy.
Use it with padding motions to add color and circle motions to blend the shade.
Flat small brush
A small flat brush is a precise synthetic brush that will apply and set the color in place, especially when the eyeshadows have a texture like shimmers or glitters and wet products like concealer or eyeshadow primer. This one is perfect for applying those highlighter/shimmer shades on the brow bone's inner corner and cutting the crease with a concealer.
Eyeliner brush
Eyeliner or eyebrows angled style makeup brush is a must-have in your kit for when you want to create an eyeshadow eyeliner, place the shades in a precise point or for the bottom lashes.
The eyeliner brush is one of the brushes that you need to have at least one on your kit because you can't get the same result with any other type of brush.

Other Essential Eye Makeup tools
Related Makeup post: How to Fake a Face-lift with Makeup! (Step by step Tutorial)

Concealer
Concealer in makeup has many uses like covering dark circles, marks, pimples, brightening the under eye, or contouring.
And for eyeshadow application, it is also an important product to have when you want to cut the crease, or clean/fix a winged eyeliner or eyeshadow.
I'm so IN love with the Tarte shape tape full coverage concealer! It's my go-to when I want the concealer to stay in place all day long, whether It is on my under eyes or eyelid to cut my crease.
It is a matte kind of drying concealer (perfect for oils skins and the summer season). Still, I found a way to make it look flawless and natural even in the winter season, and I share it in my non-creasing concealer tutorial.

Eyeshadow primer
I got to be honest. An eyeshadow primer is not an essential product for everyone. If you have oily lids, it is necessary, though. I recommend this eyeshadow primer here if you want to fix oily eyelids.
But for most people, using a foundation or concealer to prime the eyelids should be enough. Especially for a full coverage look when you want to even the eyelids skin tone.

Mascara

The lashes are a vital step for any makeup look, and even if you want natural eye makeup, some love and color on your natural lashes will enhance those eyes to make them look more awake and bigger.

False Eyelashes

Even if you have beautiful, naturally curled eyelashes applying a cute pair of false eyelashes improves the eye makeup enormously. Honestly, not everyone has those perfect eyelashes. In my case, I have small hooded eyes with tiny lashes, and applying fake lashes makes my eyes look bigger and more pretty.

For a natural eyeshadow look, try this type of natural-looking lashes, a reasonable size, and a clear band.

Check this step-by-step false eyelashes tutorial with my exclusive pro tip that makes my lashes application so much easier!

Have you heard about magnetic eyelashes? Those can be a solution if you find the glue lashes challenging to work with. They literally stay in place all day without any retouch and feel super lightweight.
I have a Magnetic Eyelashes with eyeliner guide with a step-by-step tutorial, how to properly use the magnetic eyeliner and how to remove the lashes so they last longer.

Black Eyeliner


Black Eyeliner is a must-have as well. I highly recommend you having both pencil and liquid eyeliner. The easiest way to manage a black eyeliner is by using a waterproof pen eyeliner and this waterproof eyeliner here is the absolute best!.

I have Deep-set hooded eyes, which means that when I open my eye, my lash line is almost covered by my upper lid and having a GOOD waterproof eyeliner is essential to prevent having a mess on my eyeshades.


On the other hand, a black pencil eyeliner like this one here will allow you to create more depth on the eye makeup look using it on the waterline or a cute blended eyeliner applying it on the upper lash line.

If you want to add a pop of color and be more creative, you can also opt for color eyeliners like this set here.



Beige pencil eyeliner


Use a beige pencil eyeliner on the waterline to brighten the eye and make it look bigger and more awake. This simple trick that you can make in seconds will make your eye look more lifted and youthful. And it is a must-do if you have small eyes.

Eyeshadow Palettes

There tons of eyeshadow palettes with tones of colors and shades out there, but we want to start with some basic eyeshadow palettes that I called "the foundation" of our eyeshadow palette collection.
The type of eyeshadow palettes that includes basic colors that you want to have in your makeup collection all the time. And in case you travel with your makeup or you need to transport your makeup for some reason, you need to always take this type of palette with you.
And these are Neutral, warm, cool, and colorful eyeshadow palettes.
Neutral Eyeshadow Palette
A beautiful option is the Lorac PRO palette eyeshadow here, that has 16 high pigmented, super smooth and highly blendable neutral shades, ranging from white, taupe, espresso, black and others. You literally will use every shade.
The top row are matte and the bottom row has shimmery shades, and comes in a super convenient compact palette with a small mirror.
Warm Eyeshadow Palette
A warm eyeshadow palette with orange, red, wine, browny tones in both matte and shimmery finishes. I love this palette here by UBACANE, a makeup brand that is super popular on Amazon, which offer great high quality products at affordable prices.
The palette also has some colorful shades like different tones of yellow, green and blue but mostly is a warm eyeshadow palette with also some blushes shades.
The pigmentation is great, last all day and the variety of shades make this palette a super complete palette that has everything on it.
Cool Eyeshadow Palette
Cool tones like purple and blue are tones that makeup brands have a hard time creating the right formulation to make it a perfect shade. It's not that simple to make like other colors, and probably that's why we can't find a perfect purple eyeshadow without the patchy-looking eyelids.
A cool tones must-have palette is the Spotlight eyeshadow palette here.
It also includes a beautiful range of cool tones, like blue and purple, and has other colorful shades making it super versatile! And the price is just right (less than $20 for 40 shades)
You want to have Shimmer and matte shades in your eyeshadow palettes so you will be able to mix and layer eyeshadow textures with your eye makeup look.
You also need a matte black eyeshadow shade, and a matte dark brown so you can go deeper on any eyeshadow look.



Related Makeup Post: Best Starter Professional Makeup Kits to Build your Collection the Smart way!
WAIT! Want to Apply Makeup like a Pro? Get The Ultimate Professional Makeup Bundle and learn the Makeup fundamentals, with pro step-by-step guides, charts, cheat sheets, SECRET professional makeup tips, a makeup face chart workbook & all you need to start to level up your makeup game!
Selecting your color shades for your eye color

To select the right color shades that will make your eye stand out and look beautiful, you must seek the opposite color of your eyes in the color wheel. For example, if your eyes are green, colors like red, pink, and orange will contrast your eye color. Because pink is the exact opposite of green.
Let's see the color wheel for Makeup.
The complementary opposite color brings out your eye color no matter the shade. Like any other makeup rule, you can use the same eye shade as your eye color if you want, but it will blends with your eye color and it won't accentuate or bring out your eyes.
For example, if you have blue eyes, and you use a blue eyeshadow it detracts from your eye color but if you take a bronzy warm color and add it to your eye, it will make your eye look bluer.
The point of this method is always using complementary opposites to bring out the eye color.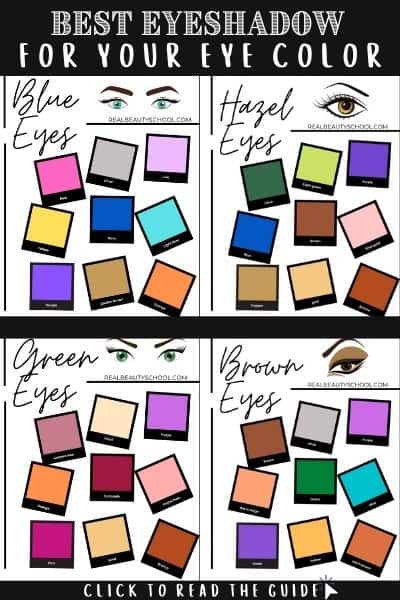 Best Eyeshadow Colors for Brown eyes
I like to call brown eyes, "universal" because if you have brown eyes you can simply play with the colors and you won't be competing, you can choose any shade you want.
However you can enhance your brown eyes, playing with the undertones that your brown eyes has.
If your brown eyes have a little more gold to them, the copper, bronzy or purple shade will stand out that gold tones.
If your brown eyes are darker with warm undertones, blue, violet, purple will stand out that warm tones.
If you have deep, almost black-brown eyes, you can use literally any color you want, like silver, green, pink, orange, etc.

Best Eyeshadow Colors for Green eyes
The best eyeshadow colors for green eyes are purple, burgundy, orange, bronzy, gold, pink, pastel pink, copper rose, and pearl.
Any warm shade will make your green eyes the focus and that's the goal.

Best Eyeshadow color for Blue Eyes
The best eyeshadow colors for blue eyes are bronzy, golden brown, yellow, orange, neutral brown, pink, silver and purple.
You can use some blues. If you have deep blue eyes, you can use light blue and if you have light blue eyes, a navy color. To enhance your natural blue.

Best eyeshadow colors for hazel green eyes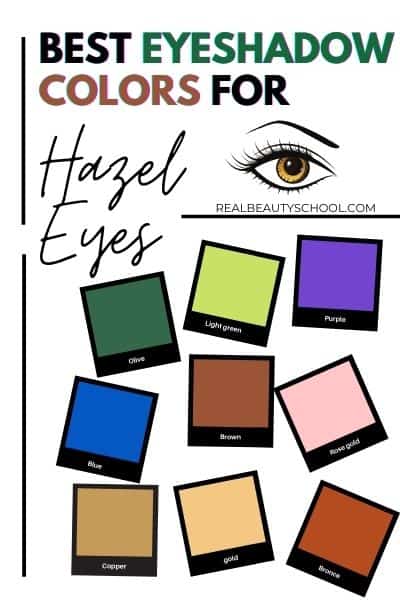 The best eyeshadow colors for hazel eyes are burgundy, warm browns, purples, blue, bronze and rose gold.
There are two different types of hazel eyes. The mixture of blue and green hazel eyes and the mixture of green and brown hazel eyes.
If you want to stand out the blue, go for coppery, warm shades and if you want the green to bring out go for the burgundy and the purples.
If you have green and brown hazel eyes, you want to stand out the green with colors like warm, coppery, burgundy and purples.

This is a simple color guide and you can play with the different tints, tones, and textures of eyeshadows to create unique eyeshadow looks especially for your eye color with the following eyeshadow techniques that I want to teach you today.
How to Apply Eyeshadow Step-by -Step
I will walk your through some of the most basic and popular eyeshadow techniques that are essential to know, especially if you are starting with makeup.
Once you know and dominate one or two eyeshadow techniques, you can mix and match between two of them as well as play around with the colors to see what works for you best.
---

5 Basic eyeshadow techniques for beginners

Eyeshadow technique 1: Day Neutral
This is eye makeup that can take you less than 10 minutes and it's perfect for a date during the day or just an easy everyday makeup routine.
1. Start by applying an eyeshadow primer, I love to use my tarte concealer as an eyeshadow primer. Then set your eyelids with a translucent powder or face powder.
2.Next, take a warm light transition shade and apply it directly to your crease with a fluffy blending brush and go back and forward from your outer corner to your inner corner of the eye.
3.Build the color as much as you want by going back to your eyeshadow and reapply it on the crease.
4.After that, take a darker but still neutral shade like a neutral brown tone and with a more precise pencil brush apply it on the outer corner forming an inverted V.
5.You want to place the color in the outer corner and once you feel like there's no much color on your brush, you can start blending the shade upwards with circular motions and a fluffy blending brush.
It's now up to you how deep you want your eye to look. You can go for a darker brown and build that deepness on the outer corner area if you want. For this "Natural" eyeshadow technique, I'm just leaving the look with a medium brown.
6.After that, highlight the lid with a shimmery rose gold shade. Take a clean blending brush and blend all the colors until you see no harsh lines.
7.To finish, take a light beige shimmery shade and highlight the brow bone and the inner corner of your eye. And apply the same medium brown on the bottom lashes area.
I love to use false eyelashes, even when I'm doing a natural day makeup look. so I'm curling my lashes, applying mascara and a natural pair of false lashes.
You don't need to apply eyeliner for this "Day makeup" look, but you can apply it if you like.

Eyeshadow technique 2: Halo eyes
If you are new on my blog, you probably don't know that I have hooded eyes, this type of eye is supper common and honestly is super challenging to work with for different eye makeup looks.
And a I have a full tutorial with my pro tips and tricks to get the perfect Halo eyeshadow look for Hooded eyes.
Halo eyes is one of the basic eyeshadow makeup techniques that once you mastered it, you can let your imagination do the rest and create unlimited numbers of eyeshadow looks that will look different and beautiful.
A Halo eye, is a eyeshadow technique that require 2-3 different shades, preferably on the same range of color to create a Halo within the eyelid, and enhancing the center of the lid.
Let me show you how.
First start with a transition shade and appy it on the crease, the outer corner and the inner corner of the eye.
After that, take a deeper shade on the same range of color. In my case, I'm using a pink transition shade and a deeper pink as the second shade.
With a small-to-medium fluffy blending brush and back and forward motions start building a slightly gradient on your crease without touching the center.
Some people also apply color on the center of the lid, and we are not doing that because we want to keep the center of the lid as light as possible for the next shade.
Now, take a light rose gold eyeshade and apply it with a wet small flat brush on the center of the eyelid.
You can leave your halo eye just like that, or applying some rose gold glitter as well like me, to enhance the eye look even more.
Apply eyeliner, false eyelashes and clean your under eye in case you have some fallout.
IMPORTANT: To complete a Halo eyeshadow look, we need to do the same as we did on the eyelid on the bottom lash line.
Following the eyelid, apply the first and second shade on the outer and inner part of the bottom lashline, as well as the light rose gold on the center of the bottom lashline.
The best part of this halo eye technique, is that you van create infinite version of it with different shades. Like all greens, blues, purples, or black with silver etc.
Eyeshadow technique 3: Smokey eyes
The Smokey eye is a classic! Is the basic eyeshadow technique that looks so cute and sexy and you just need 2-3 shades and tricks that I'm about to share.
This eyeshadow technique is perfect for makeup beginners because it doesn't require so much precision or creativity, and looks stunning on a date night or a elegant night event.
The classic Smokey eye is the Black Smokey eye, and that's the one that we are covering on this article. But in case you want to use this eye makeup look for the day, check this Brown Smokey eye tutorial.
A common mistake with the Black Smokey eye makeup look is not to apply a transition shade.
What will make this eyeshadow look sexy and bronzy will be the transition shade.
Don't use the black itself or a dark brown shade to this. Use a medium brown, bronzy shade on your crease as your transition shade.
The key of this makeup look is blending well the crease. Take your time when you are blending, most of the time is the part of the makeup that consumes more time but the flawless results are so worthy.
Have you ever heard about Patrick Ta? Is a Celebrity and Models Makeup artist that is known for his bronzy, glowy makeup looks. In a Master class, he spent about 40-50 minutes just blending one browny transition shade. And when he says that blending is everything, I think he really mean it.
We might not need that much time, but the point is if you have time, and you want to get a smooth and flawless eyeshadow look without harsh lines, blending is the key.
Now it's time for the primary shade, the black. We want an intensely deep black. There are some "black" shades that once you apply, they look more grayish. We don't want that. We want a real black eyeshadow!
PRO TIP: Take a small flat brush and use setting spray or water to wet it before taking the color, this tip will intensify the shade.
Appy it on the center of the eye starting from the lash line in tapping motions, and then distribute the color on the eyelid until the crease.
If you feel that you need to take more color, do it and build the intensity of your Smokey eye.
Now, take a clean blending brush and blend everything well until you see no harsh lines on your smokey eye. Finish the look applying highlighter on the brow bone and the inner corner of the eye.
PRO TIP: take a makeup remover wipe to clean the under eyes area if you had some fallout (I only use makeup remover wipes for this purpose, never to remove my makeup on the night!)
For the bottom lashline, we want to smoke that out as well. So we need to start with the transition shade and a fluffy brush, then, take the black shade and apply it with a more precise brush to create like a small and smooth smokey eye on the bottom eye as well.


Then apply false eyelashes and a winged eyeliner if you want your eye look more elongated.
Eyeshadow technique 4: One Color eyeshadow
The one-color eyeshadow technique is definitely my go-to for an everyday makeup look when I'm in a rush. And let me tell you that is a super cute makeup technique that with some pro tips will really make you look more awake and prettier in minutes.
As the name says, we are using only one shade for this look, and this can be almost any shade. What I recommend is a "blush" shade or a shimmer shade.
If you like the glowing skin makeup look, try a shimmery shade, like gold, silver, rose gold etc.
To create a beautiful monochromatic makeup look, take a blush shade and like peach, rose, red, mauve.
Once you pick your shade, make sure you have a similar shade to use as a blush (you can use the same) and a similar color of lipstick.
Take a pencil brush and apply your shade all over the lid without reaching the brown bone. Then apply a highlighter on the brow bone and the inner content of your eye.
Finish the look with false lashes, the same shade as blush and a similar lipstick.

Eyeshadow technique 5: Soft Glam Cut-crease
The next makeup look is more like an evening or night eyeshadow look and is also known as degradient look.
To start pick a transition shade and center the shade on the outer corner of the eyelid towards the crease, but without taking the color to the center of the eye.
Next apply a darker shade and with the same blending brush on circle motions, create a gradient effect on the outer corner of the eyelid.
Now we want to add some light to the eyes, and to do It, we are doing a Half-cut crease.
How to do a Cut-crease
Take a small and thin synthetic brush
Apply a super light liquid concealer
Follow your natural crease (expect if you have hooded eyes or monolids)
Use a tiny quantity of product and add more as you need.
Practice, practice and practice!
If you have hooded eyes (like me) you need to check this cut-crease for hooded eyes guide, because you need to do things a little bit different than the rest of the eye shapes to rock the cut crease appropriately.
Now picking a light shade and apply it where you applied the concealer.
Pat the color first and then blend it with a clean blending brush. Now to create a beautiful effect, take the same transition shade and apply it between the darker and the lighter shade to create a gradient effect.
Take your time to blend all the shades until you have no harsh lines (except the cut crease) on the eye makeup look.
For this look is optional using false lashes or eyeliner. However you want to add some drama if you are wearing this look for the night.
Related Post: How to Pick the Right Concealer for Cutting the Crease
All of this eyeshadow techniques are just the basics and you can now mix and match different colors, textures and eyeshadow finishes based on the tips provided here.


How to apply eyeshadow for every eye shape

The reality if that you can basically wear any makeup look regardless your eye shape. However, there are some specific tips and tricks for every eye shaped to make them pop and look stunning.
There are six main eye shapes, monolids, hooded eyes, almond eyes, downturned eyes, upturned eyes and round eyes.
And here are my best tips to enhance every eye shape with eyeshadow.
Monolids
Cut crease, Halo eye and smokey eye are the best eyeshadow techniques to enhance the crease.
Do not go too thick with your eyeliner on the upper lash line
Wear a winged eyeliner
Shimmery and glittery shades on the center of the eyelid
Hooded eyes
DO NOT follow your natural crease when creating eyeshadow looks that's enhance the crease
Half cut crease, and gradient eyeshadow techniques are the best for hooded eyes
Wear natural looking false eyelahses with a clear band.
Do not go too thick with your eyeliner on the upper lash line
Do not do your eyeliner with your eyes closed. (Check this tutorial on how to do the perfect winged eyeliner for hooded eyes)
Almond eyes
Basically any eyeshadow techniques goes will with almond eyes
Wear false eyelashes just on the outer corner of your lash line to elongate even more your eyes.
Downturned Eyes
A cat eye gradient eyeshadow technique will help to lift downturned eyes
Leave the bottom lashline without color
MUST do a winged eyeliner to lift the eyes
Upturned Eyes
To empathize even more your eyes, keep the volume of the eyeshadows on the outer corner of your eyes
Imagine an straight line and blending towards this direction instead of going upwards.
Always blend outwards following your natural crease
Do not overextend your outer corner, keep it rounded to compensate your eye shape.
Round Eyes
Avoid the halo eyeshadow technique
A cat eye will be your best friend to balance the eye roundness
Winged eyeliner is a MUST but only apply a thin line on the outer corner of the eye and in the inner corner, leaving the middle of the eye without eyeliner.
Extend your eyeshadow outward to elongate more the eyes.
Keep the lower lash line very minimal
Besides the makeup tips and tricks you can employ, you need to know how to apply different textures of eyeshades, like cream eyeshadow, glitter eyeshadow and shimmery eyeshadows.
How to apply cream eyeshadow
The best way to apply a cream eyeshadow is by using a synthetic brush or your fingers and place the product directly to the eyelid, leaving it on the center and blending it towards the inner and outer corner of the eyelid.
I recommend cream eyeshadow when yo are doing a monochromatic eyeshadow look as a one shade look, or to enhance even more a light shade on other eyeshadow technique.
However, cream eyeshadow is not the best option if you have oily lids.

How to put on glitter eyeshadow
I just simply love using glitter on different areas on my makeup looks. I feel like by just applying glitter the entire makeup look is improved and with more glamour.
The right way to apply glitter eyeshadow is by using a small synthetic brush, take 1-2 drops of glitter glue and place it on the desired area, wait 10 seconds for the glue to dry and with the fingers apply the glitter on top the glue.
To apply a pressed glitter eyeshadow, take a synthetic small flat brush and apply it on tapping motions on the desired area. This is so much easier than using glue and loose glitter.
And highly recommend this inexpensive pressed glitter palette here from amazon. It's my go to every time I want to add shine to my makeup looks super easily.

How to apply shimmer eyeshadow
Almost every palette on the market includes at least one, two or more shimmer shades. And this is necessary to play with the different textures of the eyeshadow and create beautiful makeup looks with different finishes.
Sometimes shimmer eyeshadows require some help to look pigmented, and to quickly fix that, you can use a wet brush to apply your shimmer eyeshadow.
Another simple way to apply shimmer eyeshadow is by using your finger and tap the colors on the desire area. Using any of these techniques is more effective than using a simple eyeshadow brush.


Tips for the best Eyeshadow application
Always prime your lids. Whether you use an eyeshadow primer, foundation or concealer, is super important to prime your lids to enhance the color of your shades, even your eyelids skin tone and to make your makeup last longer.
Have your eyeshadow brushes clean on hand. Clean your brushes regularly is a very good practice, to avoid ruining your eyeshadow looks with dirty brushes with different colors, and to avoid irritation on your eyelids.
Be careful with the reds. Those beautiful red tones that are perfect for a Valentine's Day makeup look can be more difficult to remove from your eyelids than other shades. Avoid using this tones to prevent having a hard time, and eye irritation when removing your makeup.
Layer textures with your shades. Combine different textures and experiment with your eyeshadows, to enhance the colors like using a cream eyeshadow as a base and then apply a powder eyeshadow on top to make the color look more intense.
False eyelashes! In case you feel like your makeup look is not finished or something is missing to complete the look, try applying false eyelashes. You can automatically improve your eyeshadow look with a pair of falsies. Here's my beginners guide to false eyelashes with pro tips and recommendations.
The Clean blending brush tip. When doing your makeup, always have a clean with no color blending brush on hand, so you can blend your makeup without adding more color or softly remove excess of color with it.
Practice! Practicing will improve your makeup skills by time, just be patient, you can do it!
Use a face chart. Models are not always available for practice, and you can have a hard time removing your eyeshadow over and over from your eyes. Use a blank face chart where you can practice your makeup without the necessity of models. Check my beginners makeup guide ebook here, it includes a face chart to practice makeup over and over again unlimited times.
Final thoughts on the beginner's guide to applying eyeshadow
This whole post was the basics of eye makeup theory, terminology, and eyeshadow application, and now is your time to take action and start recreating these makeup techniques with your own twist!

The most important is to know your eye shape, and based on the best eyeshadow colors for your eye color, pick the right eyeshadow technique and enhance your natural beauty with a flawless eyeshadow look.

I hope you find this post helpful, if so please share with other and pin it for later! And in the comment below let me know what is the the eye makeup part that make you struggle the most? I'd love to hear from you!

Bye-bye!
Valeria.


Related Eye makeup posts:

How to Apply Eyeshadow (#1 Beginners Guide with pictures)